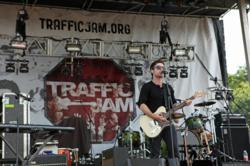 The TRAFFIC JAM Campaign unites bands and fans to "jam up" child trafficking and slavery
Castle Rock, CO (PRWEB) November 03, 2011
An amazing global collaboration is taking place on November 11, 2011 (11-11-11) with over 300 bands, solo artists and a variety of other musicians performing in more than 30 countries for a historic worldwide stance against child trafficking and slavery as part of the TRAFFIC JAM Campaign (http://www.trafficjam.org).
Approximately 30 million people are trafficked and enslaved today. That's more than all four centuries of the trans-Atlantic slave trade combined. More than at any time in history. 80% of these slaves are women. 50% are children - children forced into the sex trade (raped up to twenty times a day) or as child soldiers (often made to kill their own friends and families) and as high-risk laborers (working dangerous jobs that no adult would ever consider). Childhoods stolen. Childhoods exploited and abused.
The 11-11-11 GLOBAL TRAFFIC JAM, facilitated by the TRAFFIC JAM Campaign (TRAFFIC JAM), consists of hundreds of bands from every continent performing simultaneous concerts to "jam up" the trafficking of children around the world. These bands will all share a message of awareness about the global trafficking of children as part of their event.
Paul Myhill, the President and Founder of TRAFFIC JAM remarked, "We are truly happy to see such a great global participation in this event. There is not a country in the world that isn't impacted by slavery today, and on 11-11-11 many countries will be raising their guitars and voices for freedom."
My Myhill added, "November 11th is also Veteran's Day in the United States. As we celebrate those who have fought and served for the freedom we currently enjoy, we are reminded of our compassion and responsibility to bring freedom to others."
TRAFFIC JAM provides the participating bands with presentation tools - including statistics, talking points, child stories, and a related video. Bands will pick and choose from these materials depending on their presentation styles and preferences. These bands also set up online campaign pages for the event, but fundraising is not required for their participation. Mr. Myhill added, "Although additional resources are obviously needed to fight this worldwide injustice, the GLOBAL TRAFFIC JAM event is about raising awareness as a global community – with the understanding that, with awareness, active involvement soon follows."
ABOUT THE TRAFFIC JAM CAMPAIGN:
The TRAFFIC JAM Campaign unites bands, celebrities and fans in the fight to stop child trafficking and slavery through personalized online fundraising pages and live events hosted all over the globe. By the end of 2011, more than 450 bands in over 40 countries will have participated in TRAFFIC JAM music events involving more than 200,000 people to raise awareness and funding to re-abolish slavery in our time.
The TRAFFIC JAM Campaign works in over 75 countries through more than 120 partnerships with trusted front-line practitioners engaged in human trafficking prevention, rescue and aftercare (restoration/rehabilitation) programs. 100% OF FUNDS RAISED GO DIRECTLY TO THESE IN-FIELD SPECIALISTS. No administrative fee is ever taken out by the TRAFFIC JAM Campaign for operational and fundraising costs. The TRAFFIC JAM Campaign is truly unique in this respect.
To date, the TRAFFIC JAM Campaign has impacted over 15,000 children the world over. Childhoods rescued. Childhood restored.
More information can be found at http://www.trafficjam.org and at the new TRAFFIC JAM page on Facebook at http://www.facebook.com/trafficjamorg. Individual band information and quotes will be added there daily, starting on November 2nd.
###