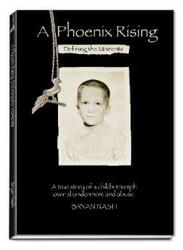 a testament to the strength of the human spirit.
Orange, CA (PRWEB) September 5, 2007
Statistics have shown that 76% of children who die each year from child abuse are under the age of four.* In his new book, ''A Phoenix Rising: Defining the Moments,'' first time writer, Bryan Nash, shares how he survived this tragic statistic and lived on to fight back against the abuse he suffered as a foster child.
September 11, 2007 marks Nash's 50th birthday and the release of his book, which he's commemorating with a book signing at Libreria Martinez located at 1110 N. Main St. in Santa Ana. He chose this day to share his story with the world because it signifies his triumphant rise above his ashes. "I lived it, but it took me 30 years to process it," says Nash, "that's the effect child abuse has;" and regarding the location, Nash says, "It was important to me that I released this book where the story really began."
''A Phoenix Rising'' is Nash's true story of his abandonment as an infant and the subsequent abuse he suffered as a child. It's a "raw look at a childhood defined by abandonment and abuse," as reviewed by Kirkus Discoveries, Nash "offers a heartwarming story about keeping faith and hope alive that will inspire those familiar with abuse." The book minimizes the severity of his mistreatment to focus instead on his strength. According to ForeWord Clarion Reviews ''A Phoenix Rising'' is in fact, "a testament to the strength of the human spirit."
To purchase or find additional information about ''A Phoenix Rising: Defining the Moments,'' please contact Holly Senecal or visit http://www.aphoenixrisingthebook.com. Please note, the book's official release date is September 11, 2007 and is available at the above website or Amazon.com.
The Eddie Nash Foundation is a non-profit 501c(3) organization Nash founded to create awareness and support for other victims of abuse and to help children at risk. He has pledged the proceeds from his book to this foundation.
*Statistics from US Department of Health and Human Services, 2005 data
###