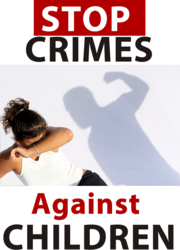 I believe each person can make a difference in this big crazy world. – Dolores M. Miller
Philadelphia, PA (PRWEB) May 22, 2013
Dolores M. Miller, Poet and Author of the Beautiful Warrior writings, shares her time and her treasure to combat child abuse while providing hope, healing and inspiration to survivors of childhood abuse. The most recent benefactor of her time and talents is Dominick's Law.
Dominick's Law is a law proposed by Dominick's grandfather, Mr. Rick Calhoun. Mr. Calhoun and other supporters are demanding mandatory reporting laws on child abuse and stiffer penalties for child abusers. Last year in June 2012 "Dominick's Law " was unanimously passed in the House and In the Senate in the state of Michigan, and was signed into Law by Gov. Rick Snyder.
"We could not have done it without all of the help from our supporters on Facebook. Michigan now carries the STIFFEST PENALTIES FOR CHILD ABUSE. " - Dominick's Law Facebook Post
"Our work is not over my friends. In 2013 we would like to launch a huge campaign to get Dominick's Law passed in a state near you; "DOMINICK'S LAW NATIONWIDE CAMPAIGN"! We also have a commitment to helping abused and at risk children nationwide. 56,000 strong supporters being the voice for those who have none." - Donna M Hasman-Black
Dolores M. Miller is taking on the challenge! Dolores is advocating for the same laws to be passed in Pennsylvania. Working with the legislators in Pennsylvania, Dolores is the voice for those with no voice and will continue to fight for justice where there has been none.
After working tirelessly for causes close to her heart including The Support Center for Child Advocates, MACA the Million March Against Child Abuse, Let Go Let Peace Come In, Covenant House, and Dominick's Law, Dolores is back on the road and presenting healing workshops and lectures for survivors. Dolores M. Miller provides compassion and hope for those who need it most. "Compassion is the word; we are here to share our healing journey with others to help them heal! The world needs more of this now!" – Dolores M. Miller
Dolores Miller will be speaking at the South Florida Support Group Meeting for CSA - SNAP & Together We Heal at Broward Health Imperial Point in Early September. You are urged to join the informative and healing session. Additional presentations will be available in August in New Jersey and Pennsylvania in September 2013. View the Facebook page for Dolores M. Miller for more details.
"Dolores is an inspiring poet with a message of hope and healing - please take a moment to go to her website and consider some of her writings. Maybe someone in your life has suffered from the trauma of childhood sexual abuse; or maybe someone you know is simply in need of a positive outlook on a negative life experience of another kind. No matter how bleak things may appear, as humans we have the fascinating ability to choose whether or not we believe in hope or remain in the vacuum of hurt. You will find the words of Dolores can help restore your hope." – David Pittman.
"I strive to reach out to all people, to inspire and provide health and spirituality… my healing words can touch deep inside to the fibers of the soul. If you keep believing – even in the most difficult of times, you will rise above." – Dolores M. Miller
Dolores M. Miller, Poet and Author of the Beautiful Warrior writings, is a proud supporter or organizations protecting our nation's children. As a survivor of child abuse, Dolores provides hope, courage and healing to the readers of her works. Dolores would like to offer more healing words and inspiration. "I believe in your compassion", please visit http://www.beautifulwarrior.com to purchase the Beautiful Warrior books and please be sure to like DoloresMMiller on Facebook for daily inspirational messages.
Contact: Dolores Miller
Beautiful Warrior
http://www.beautifulwarrior.com
Email: Doloresmiller(at)aol(dot)com
Dolores Miller is considering additional speaking engagements for 2013 and 2014, please make contact through Beautifulwarrior.com or facebook.com/doloresmmiller