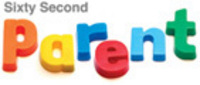 So why is this increase in childhood obesity occurring? Weight maintenance depends on a balance between our energy intake (the calories we eat and drink each day) and energy expenditure (the calories we burn up with physical activity)
Ashville, North Carolina (PRWEB) September 28, 2008
In the inaugural newsletter for Sixty Second Parent, leading US Pediatric expert Dr Robert P. Schwartz, MD, Wake Forest University School of Medicine NC, warns that we are facing a serious problem with childhood obesity. An increase in childhood obesity is directly related to the prevalence of diabetes in children. Dr Schwarz recommends a 5 step strategy for all families to control and reverse this risk.
Dr Schwartz explains, "We need to get off the couch, eat a healthier diet, dine out less frequently, watch our portion size, and turn off the TV. If we want our children to eat a healthy diet we must also eat a healthy diet and make sure that our homes contain mostly healthy choices. If we want our children to be physically active we must become physically active. If we want to prevent our children from becoming overweight we must make changes ourselves and be good role models for our children, our families, and our communities". Read more at Sixty Second Parent.
Schwartz goes on to say that one in three children born today will develop diabetes during their lifetime, and this is the first generation of children who will not outlive their parents.
As well as diabetes, complications from childhood obesity include high blood pressure, elevated cholesterol, kidney disease, liver disease, low self esteem and depression. Schwartz hands the control of this epidemic over to the parents, and recommends that they understand and control the key factors that contribute to childhood obesity: sugar-sweetened drinks, dining out, decreased physical activity, and sedentary activity such as TV, video games and computer. By making this information available to the online parenting community at Sixty Second Parent, Schwartz and other experts in pediatrics and parenting are able to get their recommendations out to the parents directly, and parents get the chance to have their questions answered by these experts
"So why is this increase in childhood obesity occurring? Weight maintenance depends on a balance between our energy intake (the calories we eat and drink each day) and energy expenditure (the calories we burn up with physical activity)" explained Dr Schwartz. When we take in more calories in our diet or decrease our physical activity we get out of balance. The major factors related to increased energy intake include sugar-sweetened drinks, high calorie snacks, dining out at fast food and other restaurants, and large portion sizes for our food and drinks.
About Sixty Second Parent
Sixty Second Parent is a website that offers a unique and fresh approach to obtaining practical parenting tips and information. Sixty Second Parent understands that the expectations and pressures put on parents today are more complex than ever before and recognizes the need for a simpler support system for parents and families.
As part of the solution, Sixty Second Parent has brought together the world's leading experts in child development, child health and parenting to provide sound practical parenting information within an online community network.
Sixty Second Parent intends to provide parents-to-be, young parents and grandparents with information, enjoyment, and connection into a like-minded community via a user-friendly web platform. This community gives parents the information they need, as well as reassurance in their actions, and guidance in interactions with their children.
The online support network is designed to link parents and families with industry specialists and other parents along with an online parenting store offering the best in early childcare resources.
About Robert P. Schwartz, M.D., F.A.A.P.
Robert Schwartz is Professor of Pediatrics and Chief of Section of Pediatric Endocrinology at Wake Forest University School of Medicine in Winston-Salem, N.C. Previously, he served as Assistant Chair and Director of the Pediatric Residency Training Program at Carolinas Medical Center in Charlotte, N.C., from 1974 to 1992. Dr. Schwartz received his Bachelor of Science and Medical Degrees from the University of Florida. He completed his internship and residency in Pediatrics at Carolinas Medical Center. In addition, he completed a Fellowship in Pediatric Endocrinology and Metabolism at Duke University Medical Center.
Along with many other state and national activities, Dr. Schwartz has served on the Health and Wellness Trust Fund Commission Study Committee on Childhood Obesity; the editorial board of the Journal of Pediatrics; the Executive Committee of the Section on Endocrinology of the American Academy of Pediatrics (AAP) from 1990 to 2000; the Maintenance of Certification in Pediatrics Examination Committee of the American Board of Pediatrics since 1993; the North Carolina Newborn Screening Advisory Committee since 1996; and the Executive Committee (as member and medical adviser) for the North Carolina Task Force for Healthy Weight in Children and Youth. He was president of the North Carolina Chapter of the AAP from 1987 to 1989. His research includes a "Healthy Lifestyles Study" on obesity prevention in young children with the American Academy of Pediatrics and the Centers for Disease Control and Prevention. He received the Denny, Katz, Simon, Tingelstad Academic Service Award in 2002. Dr. Schwartz is board-certified by the American Board of Pediatrics in Pediatric Endocrinology and is a member of the Lawson Wilkins Pediatric Endocrine Society, the American Diabetes Association, and the North Carolina Pediatric Society.
# # #