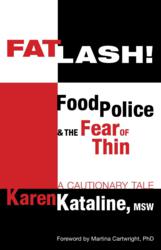 We're seeing a flurry of examples of projecting adult-like qualities onto children for the narcissistic and personal gain of adults
Denver, CO (PRWEB) April 30, 2013
As the month of April and "Child Abuse Prevention Month," comes to a close, author Karen Kataline is warning of a new and growing trend of thrusting children into age-inappropriate behavior for the personal and political benefit of adults. She says this includes the cases in which children are sexualized, which can be as damaging to their development as more blatant forms of sexual abuse.
Kataline says that the lack of understanding of how this practice damages children is allowing it to become an accepted trend and endemic to the culture. Recently, Krystal Ball of MSNBC did an on-air interview with her five-year-old daughter and asked her how she felt about gay marriage. "Regardless of what we think about gay marriage or any other issue of the day, parents and politicians have lost sight of what is age-appropriate for children." Kataline says. "There's a reason kids don't date at age 5, yet some adults think it's perfectly okay to expose them to sexual material at that age."
"Programs like "Toddlers and Tiaras" and "Here Comes Honey Boo Boo" are leading examples of this phenomena," says Kataline. These programs reward parents with exactly the kind of fame and recognition they seek. Consequently, we're seeing a flurry of examples of projecting adult-like qualities onto children for the narcissistic and personal gain of adults."
Kataline's book, FATLASH! Food Police & the Fear of Thin, examines this syndrome from a personal and professional perspective. "Just as in more blatant and obvious forms of child abuse, children are easy targets precisely because they haven't reached the stage of emotional maturity to be able to set their own boundaries. This practice is growing and dangerously close to being a normal part of the culture. We stand to have a whole generation of children who don't know where others' lives end and theirs begin."
Kataline says we need a greater awareness and understanding of boundaries and about the stages of healthy child development. She recommends The Eight Stages of Development developed by psychiatrist, Erik Erikson in 1956 as a good starting point. "Expecting children to understand things that are meant for adults, rushes them past these stages and damages them in ways we may only see in decades to come."
Karen Kataline, MSW received her master's degree from Columbia University and has practiced in a variety of non-profit and corporate settings. She has taught communications and public speaking at the New School for Social Research, Parsons School of Design in New York, New Jersey's Montclair State College, and Fairleigh Dickenson University, among others. FATLASH! Food Police & the Fear of Thin is a finalist in the Foreword Review's 2012 Book of the Year Awards in the category of "Women's Studies."