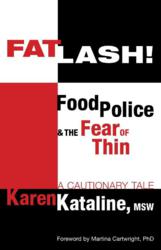 Kataline's story serves as a powerful example of what not to do.
Denver, CO (PRWEB) October 16, 2012
Curiousity about Honey Boo Boo and constant speculation about her future could be part of what has made her a star. Can credible predictions be made about her or the growing number of other highly-sexualized little girls on programs like Toddlers and Tiaras? Or will we have to wait twenty or more years to learn the real impact of their experiences?
Karen Kataline was first put on the stage at the age of three and had a "stage mother on steroids." Complete with instruction in how to wiggle her hips in front of large crowds, starvation diets and hours in a makeup chair, Kataline had a beauty pageant childhood.
It wasn't until her thirties and after earning a Masters Degree in Social Work from Columbia University, that Kataline begin to unravel the secrets of how she really felt as a child on display.
In her new memoir, FATLASH! Food Police & the Fear of Thin Kataline details her experiences with humor and some startling insights as she explains the psychodynamics of how some parents live vicariously through their children. Her compelling story also illustrates how adults and children alike, may use obesity as protection from unwanted attention and sexual display.
Rather than falling out of favor, child pageants have exploded in popularity and controversy since the tragic case of JonBenet Ramsey kept the country spellbound in 1996. FATLASH! is one of the first personal accounts by an adult who is qualified to explain the complex issues involved. "I don't advocate banning these pageants, but if we can do a better job of informing people about what these girls are likely to face as they develop, I believe parents will make better choices to protect their children," Kataline said.
With a Foreword by Martina Cartwright, Ph.D, RD., who has written extensively about child pageants and eating disorders for Psychology Today Online, FATLASH! is a groundbreaking, personal account of the real consequences of thrusting children into adult sexuality and what we should be doing about it.
Author and speaker, Karen Kataline, MSW, has practiced in a variety of non-profit and corporate settings. Fatlash! is her first book. For more information visit http://www.FATLASH.com.
Fatlash! Food Police and The Fear of Thin — A Cautionary Tale will be available November 1 from Amazon, Barnes & Noble, and wherever books are sold.