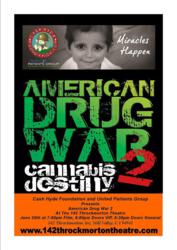 For every minute that a child is smiling, is a minute that cancer isn't winning, states Mike Hyde - father of Cash Hyde.
San Francisco, CA (PRWEB) June 15, 2013
Medical marijuana resource United Patients Group has teamed up with pediatric cancer foundation - Cash Hyde Foundation to present an exclusive viewing of the new documentary by filmmaker Kevin Booth, American Drug War 2: Cannabis Destiny. The event will be on Thursday, June 20, 2013 at the 142 Throckmorton Theatre in Mill Valley, CA beginning at 6:30 pm. For tickets, you can go to the 142 Throckmorton Theatre website.
"We have two very special guests attending this exclusive screening. Anyone interested in the politics surrounding cannabis in this country should definitely see it." said John Malanca, founder and owner of UnitedPatientsGroup.com.
As a tribute to Cash Hyde's birthday, the Hyde family will be in attendance to meet with audience members, industry leaders and to answer questions. Cash was taken too soon after a hard-fought battle against pediatric cancer. He would have been 5 years old on June 21st.
Also in attendance will be marijuana advocate and author Clint Werner, who wrote the book Marijuana Gateway to Health: How Cannabis Protects Us from Cancer and Alzheimer's Disease.
All proceeds of the event will be donated to the Cash Hyde Foundation, which is on a mission to end pediatric cancer. The foundation uses donations like these to do many things, but being able to give back to the young patients is the most rewarding, said Malanca. "Your ticket donations will help us to help other families struggling with cancer."
"We celebrated Cashy's birthday last year by delivering customized Little Tyke's cars to UCSF, California Pacific Medical and Oakland Children's Hospital and we'll be doing the same this year!" said Malanca.
In honor of Cashy's 5th birthday on Friday, June 21st, United Patients Group and the Cash Hyde Foundation will deliver these customized Little Tyke's cars that are fully equipped with IV poles to hospitals around the Bay Area.
These Little Tyke's cars enable gravely ill children to scoot up and down the hallways. "For those brief moments, a child can pretend that they have a normal life. Hospitals tell us that these cars are very helpful when children need to move around after surgery, the children actually want to get up to play when they see these vehicles." said Mike Hyde - father of Cash Hyde. "For every minute that a child is smiling, is a minute that cancer isn't winning." states Mike Hyde.
To support the Cash Hyde Foundation's mission of ending pediatric cancer, visit http://www.cashhydefoundation.com/donations.php.
For more information about the film or about UnitedPatientsGroup.com, call (415) 524-8099 or visit UnitedPatientsGroup.com.
The best way to stay informed about developments is to "like" United Patients Group on Facebook and "follow" Untied Patients Group on Twitter.
About UnitedPatientsGroup.com
UnitedPatientsGroup.com is a discreet, safe, and professional online medical cannabis information resource for prospective and current patients, caregivers, and medicinal cannabis industry professionals.
While most online medical marijuana sites cater to patients already familiar with medical marijuana, the UnitedPatientsGroup.com website is a comprehensive and easy-to-use information source for people of all ages and experience levels, from novice medical cannabis users to experienced industry professionals. The site's News, Resource, and Blog pages introduce new patients to the ins and outs of medical marijuana healthcare, while helping experienced providers stay abreast of the latest developments in THC and CBD therapies.
A complimentary Five Star-rated United Patients Group medical marijuana app is available on the iTunes app store for iPhone 3GS, iPhone 4, iPhone 4S, iPhone 5, iPod touch (3rd generation), iPod touch (4th generation) and any iPad.