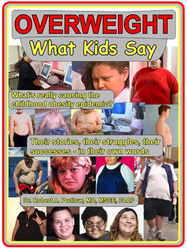 America's children have literally become addicted to highly-pleasurable comfort foods.
Seattle, WA (PRWEB) April 28, 2011
For over a decade, Seattle pediatrician, Robert A. Pretlow, M.D., has been sounding the alarm about a disturbing finding in the effort to curb America's childhood obesity epidemic. Dr. Pretlow's 10-year study led to a result no one wanted to hear: America's children have literally become addicted to highly-pleasurable comfort foods.
A new Yale University study published this month in the Archives of General Psychiatry confirms what Dr. Pretlow has been saying for years: that some children are addicted to highly-pleasurable comfort foods, like junk food and fast food, in the same way that some people who abuse alcohol are addicted to booze.
Dr. Pretlow's research is summarized in the forthcoming issue of the peer-reviewed journal, "Eating Disorders" (Volume 19, #4). Members of the media can contact us to preview the journal article.
--- Current Efforts to Battle Childhood Obesity Won't Work ---
"Until we recognize how certain foods can be addictive," says Dr. Pretlow, "we cannot properly treat the obesity epidemic." Yale University researchers reached the same conclusion: "the current emphasis on personal responsibility...may have minimal effectiveness." For years, Dr. Pretlow has been telling anyone who would listen that the current techniques used to combat childhood obesity -- including First Lady Michelle Obama's noble "Let's Move!" initiative -- simply won't cut it. But few would listen -- until now.
An electrical engineer as well as a pediatrician, Dr. Pretlow originally got involved in childhood obesity issues while designing online weight loss programs. As part of that work, he created an online forum monitored by health care professionals where kids could speak honestly and anonymously about their efforts to lose weight.
After listening to thousands of kids for over 10 years, Dr. Pretlow came to realize what is behind the childhood obesity epidemic: kids have become addicted to comfort foods, which they eat in excess to combat stress, depression, and boredom, including the stress of being overweight itself. In 2010, Dr. Pretlow published his research in the massive book, "OVERWEIGHT: What Kids Say: What's Really Causing the Childhood Obesity Epidemic" (eHealth International, ISBN 1450534392).
--- Early Warnings Rejected due to Vested Interests ---
Due to the vested interests of obesity experts, some of whom are funded by food companies who design foods to be addictive, news about food addiction has been kept from the mainstream public. Here are some examples:

In 2008, the American Academy of Pediatrics published a letter by Dr. Pretlow about food addiction in their journal, "Pediatrics" (Vol. 122, #2) -- along with a rebuke. An obesity researcher, whose response was solicited by the journal, replied that the substance abuse model would not work for overeating because, "unlike drugs or alcohol, food is necessary for life."
Since publishing his research, Dr. Pretlow has been invited to speak at seven obesity conferences, all but one outside the U.S. At one U.S. obesity conference, the word "addiction" was mysteriously deleted from the conference program titles.
In 2011, Dr. Pretlow questioned conflicts of interest of the scientific journal, "Childhood Obesity," funded by the Kellogg Foundation, a nonprofit endowment whose sole source of revenue is stock in the Kellogg Company, maker of such cereals as Cocoa Crispies and Frosted Flakes.
In March, 2011, Dr. Pretlow appealed to the committee in charge of revising the mammoth Diagnostic and Statistical Manual of Mental Disorders, or DSM, to include food addiction as an eating disorder. Their response? "We do not have sufficient evidence to move food into the addiction category." The committee requested peer-reviewed studies. Well, now they have them!
--- Will More Foods Be Treated Like Drugs in the Future? ---
The Yale research has been criticized for a small sample size of only 39 adolescent females. Dr. Pretlow's research is based on statistical analysis of data from 29,406 overweight children, age eight to 21, including over 135,000 messages posted over the span of a decade. The two studies combined provide irrefutable evidence that food addiction plays an important if not deciding role in childhood obesity.
The repercussions of this pioneering work are enormous. They indicate that educational efforts, such as teaching children and parents about proper nutrition and exercise, are unlikely to achieve significant results. The only way to get meaningful victories in the war on obesity likely requires treating obesity as an addiction. That could mean regulating access to addictive foods such as milkshakes and donuts -- treating them as the drugs they are rather than as harmless junk food that is sometimes abused.
Between the Yale University study and Dr. Robert Pretlow's obesity research, a new era has opened in health, fitness, and food regulation. We hope you will tell your audience about this important story. Please contact us for an advanced look at Dr. Pretlow's study in press for "Eating Disorders," a free copy of the book, "OVERWEIGHT: What Kids Say" (PDF version), or an interview with Dr. Pretlow.
# # #