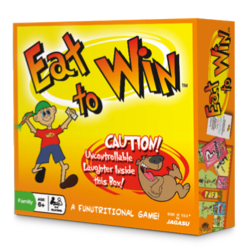 Highland, Michigan (PRWEB) November 13, 2012
Eat to Win LLC, makers of FunNutritional games and products, demonstrated its unique strategies for improving childhood nutrition and encouraging increased physical activity at the 140th annual meeting of the American Public Health Association which took place October 27-31 in San Francisco. The theme of the meeting was Prevention and Wellness Across the Life Span, and Eat to Win's approach tied right into this theme.
The Eat to Win FuNutritional Board Game was very popular among attendees, as were the new Flash Card Games for Preschool through 5th Grade. Attendees particularly liked Eat to Win's new Food Trackers, due to be released in three weeks, an interactive tool that allows kids to track all five food groups as recommended in the new Food Plate that replaces the old food pyramid.
The Food Tracker, is an instructional tool parents can use with their children to record the foods they're eating so they can proportionally reach all recommended food groups in a responsible and healthier approach.
Rita Khoury, Epidemiologist at the Centers for Disease Control, said the Eat to Win game "incorporates fun and health awareness." Beverly Taylor, MD, from the Morehouse School of Medicine said, "It is a fun way to eat well."
Jammi (pronounced Jamie) Roscoe, Co-Founder and Chief Executive of Eat to Win was very positive about the reactions received from the 12,000 participants at the annual meeting. She reflected, "This was an important meeting for us. We have received affirmation from individuals representing all aspects of human development that our approach is a winning one."
About Eat to Win:
Eat to Win was created by a concerned mom whose own child struggled with being overweight. Child obesity in America has become a major issue. An unhealthy lifestyle is a common problem among children and adults. Eat to Win was created to help encourage nutrition and exercise through fun and active games. Please share your stories with us on Facebook and Like Us to receive a discount! Our games are in agreement with MyPlate.gov.