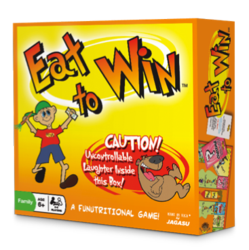 Highland, Michigan (PRWEB) November 21, 2012
National Game and Puzzle Week is happening now, and Eat to Win wants parents to know that with their new board game and flashcards, they can have family fun with their kids and learn about the importance of childhood nutrition, healthy eating and physical activity at the same time.
"This year, Eat to Win is proud to give parents a healthy new option during National Game and Puzzle Week. The board games and flashcards we offer are so much fun that kids don't even realize they are learning about eating healthy," said Jammi Roscoe, Co-Founder and Chief Executive of Eat to Win. "There's non-stop laughter, you never know which dance or silly activity you might end up doing!"
Eat to Win, a 2012 Parent Tested Parent Approved award-winner, is a "FuNutritional" game that helps to counter the problem of childhood obesity. Their innovative approach uses fictional money as a reward for good food decisions and also encourages physical activity through their child-friendly interactive board game.
The company was able to garner support and meet with key leaders fighting the childhood obesity epidemic at multiple events throughout the year, like the Southern Obesity Summit in Charlotte, North Carolina and the National Black Child Development Institute's Conference in Fort Lauderdale, FL.
Co-Founder Jammi Roscoe created Eat to Win as she dealt with the struggles her overweight son was having. She decided to challenge her son to buy food based on the caloric intake, making each dollar with a calorie. By applying practical real-world skills to calorie counting, it created a fun dynamic that a child would be able to stick to. As extra incentive, unused dollars could be saved up and cashed in for tangible prizes. This personal experiment grew into a passion of teaching children about nutrition in a fun and engaging way.
About Eat to Win:
Eat to Win was created by a concerned mom whose own child struggled with being overweight. Child obesity in America has become a major issue. An unhealthy lifestyle is a common problem among children and adults. Eat to Win was created to help encourage nutrition and exercise through fun and active games. Please share your stories with us on Facebook and Like Us to receive a discount! Our games are in agreement with MyPlate.gov.