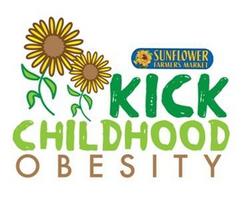 Boulder, Colo. (Vocus) September 12, 2009
Sunflower Farmers Market is teaming up with President and Mrs. Obama in their efforts to bring awareness to the important issue of childhood obesity. Throughout the entire month of September, each of Sunflower's 26 stores (and counting!), across five states, will hold fun and healthy back-to-school events at no cost to you and your family.
According to the Center for Disease Control and Prevention, childhood obesity is on the rise. With the start of another new school year, and the help of our President and First Family, Sunflower Farmers Market is pledging to help KICK childhood obesity, helping kids to live, eat and play healthier today and tomorrow. Pledge to kick childhood obesity at your local Sunflower Farmers Market - just look for the banner at the front of the store.
While you are shopping for Sunflower silly savings, make sure your family signs the "Kick Childhood Obesity" banner at your local Sunflower Farmers Market. We ask that all "Sunflower children" pledge to eat healthy and exercise this school year by imprinting their hand on our banner. At the end of September, signed banners from each Sunflower store will be sent to directly to the White House for President and Mrs. Obama.
Contributing factors to the increase in childhood obesity include not only genetics, but behavioral factors, such as decreased physical activity, and environmental factors, such as habits learned within the home or community.
Stop into your local Sunflower to find out dates of specific events and have your children pledge to kick childhood obesity.
For more information and event details, please visit http://www.sfmarkets.com/nutrition.
About Sunflower Farmers Markets
Sunflower Farmers Markets (http://www.sfmarkets.com) is a rapidly growing chain of full-service grocery stores offering consumers the highest quality natural and organic products at the lowest possible price. The company, founded in 2002, is a pioneer in developing the emerging value segment of the natural and organic foods retailing industry. They have remained true to their motto "Serious Food…Silly Prices" since the market's inception. The company has 26 retail stores located throughout Colorado, Arizona, New Mexico, Nevada, Utah, and Texas (operated as Newflower Farmers Markets).
# # #