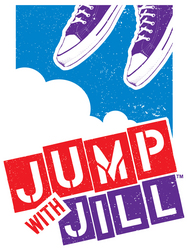 New York (Vocus) June 8, 2010
The nutrition rock show Jump with Jill has reached 100,000 kids nationwide. This impressive milestone speaks to the show's innovative approach to childhood obesity. Formatted as a kid-appropriate rock 'n roll concert with healthy eating choruses, Jump with Jill is an interactive live show that teaches nutrition through music and dance. The touring production has been performed over 600 times in the past four years. The program was developed by The Rockstar Nutritionist Jill Jayne, who is both a registered dietitian and musician. Kids can also rock out at home or in their parents' cars to the Jump with Jill soundtrack, Get Me Goin'.
"It's time for health education to rock,'' says Jayne. ''We know kids can remember commercial jingles, why not make learning about healthy habits as engaging and memorable? It's imperative to sync our approach to health education with this media-centered generation if we hope to effectively and sustainably address childhood obesity."
Along with the efforts of Jamie Oliver's Food Revolution and Michelle Obama's Let's Move campaign, Jump with Jill and the Get Me Goin' CD address an urgent need to connect with kids when it comes to overall health, exercise and nutrition. Nationwide, 17 percent of kids are obese (BMI over the 95th percentile) and only one out of three kids meet basic fitness requirements. Kids spend nearly seven and a half hours per day consuming media, witnessing over 40,000 commercials per year, most of which encourage them to remain inactive and continue consuming. With all the noise, today's media-savvy kids have become increasingly difficult to reach. Creator Jill Jayne uses the same tactics normally used to sell junk food to get kids engaged, moving and learning about healthy habits.
Both the CD and interactive show are productions of Note to Health, Jill's company that specializes in creating and delivering interactive media about health to kids and families. Jill appears regularly in news outlets across the country, including Today's Dietitian, NPR, The Washington Post and PBS. To learn more about the show, sample CD tunes or follow Jill's blog, visit http://www.jumpwithjill.com .
About Note To Health
Note to Health, led by the Rockstar Nutritionist Jill Jayne, is a New York City-based company specializing in age-appropriate, interactive multimedia productions designed to teach kids about health. Note to Health currently offers three different nutrition education and entertainment productions: Jump with Jill, I Will Not Be Bought, and Jill & Jam. Jump with Jill is a live rock concert that teaches elementary students about nutrition through music. I Will Not Be Bought is an interactive, music-based performance for middle and high school students with a focus on the influence of advertising on body image and nutrition. Jill & Jam is a live, interactive show that gets preschoolers singing and dancing their way to healthier habits. Jill, President and Creative Director of Note to Health, is a musician and registered dietitian (RD) with a master's degree in nutrition education from Columbia University, and a bachelor's degree in nutrition and theater from Penn State University.
For more information on Jump with Jill, visit http://www.jumpwithjill.com .
To schedule an interview with Jill, contact Mark Jayne at mark(at)jumpwithjill(dot)com or (917) 497-4248.
Read this story online at http://notetohealth.com/onthebeat/2010/06/07/jumpwithjillmilestone/ .
###