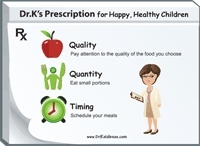 If we change the way we eat meals, we can change our society.
Round Rock, TX (PRWEB) May 1, 2010
Dr. Marta Katalenas, a renowned Round Rock, Texas, pediatrician, has launched a local crusade called "The Prescription for Healthy, Happy Children–From Scratch," to help families solve childhood obesity, weight and health issues at home. Her effort dovetails with that of the Let's Move! campaign started by the First Lady Michelle Obama to resolve a U.S. health crisis affecting children nationwide.
According to First Lady Michelle Obama, childhood obesity rates in the U.S. have tripled over the past three decades. For the first time in history, American children may face a shorter lifespan than their parents because obesity can lead to many preventable diseases such as diabetes, heart disease, high blood pressure, cancer and asthma. Dr. Katalenas, founder of the Pediatric Center of Round Rock, has seen an increase in these medical problems for her young patients and has answered the call of the First Lady to help in her campaign. She is taking her own crusade of educating parents out of her practice--right into the community of Round Rock, Austin and surrounding metropolitan areas.
Childhood overweight issues and obesity are serious health problems facing families today and many parents feel overwhelmed. They share with Dr. Katalenas their frustration about conflicting or partial information and the fact that they don't know how to prepare healthy food. "For as long as we have been aware of the obesity epidemic in our country, we have been told what not to eat," said Dr. Katalenas. "Different experts throughout the years have given advice about calorie counting, about reducing the fat content of the diet and about what we should avoid," says Dr. Katalenas.
She feels that our fast-paced society created quick meals and snacking on-the-go of high calorie, low nutrient foods which leads her to a solution present in what we already know. Having grown up in Spain, the doctor has incorporated what has been shown to be successful from her European culture in her "prescription" solution for a cure of the epidemic. A recent study of over 20,000 people of Mediterranean origin concluded a lower incidence of cardiovascular disease and obesity, and increased longevity. The study could not pinpoint a single ingredient in the diet as responsible for the beneficial effects of the diet. "It is because there is no single ingredient, but a life-style and eating habits combination that is possible to learn and reproduce in our society," said the doctor. "They don't do it because they know better; it is their culture to enjoy home-cooked meals with their family."
In the U.S., most pediatricians find that lack of parental involvement is one of the greatest barriers to treating childhood obesity, according to a study published in the journal Pediatrics. "If we change the way we eat meals, we can change our society," said Dr. Katalenas. "Good eating habits and cooking skills transfer from parents to their children over time, creating a revolution in our community which can spread throughout our culture." What is the precise simple prescription? Easy, home cooked meals with your family using a menu developed for busy families with little experience in cooking. No calorie-counting, no fuss—and a wonderful experience of being together for the whole family.
Marta Katalenas, M.D. is a native of the town of Oviedo, in northern Spain. A board certified Pediatrician, she believes the cooperation of the entire family is essential in the fight against childhood obesity. Dr. Katalenas is the Adjunct Clinical Professor of Pediatrics of UT Medical Branch, the Adjunct Clinical Instructor of the UT School of Nursing and provides care for newborns at the Round Rock Hospital and North Austin Medical Center. She founded the Pediatric Center of Round Rock where she oversees a nutrition management program designed to help children and families make the lifestyle changes necessary to promote and maintain health.
Dr. Katalenas is available to speak to your employees or group about how to prevent and solve childhood obesity. Visit http://www.DrKatalenas.com to obtain recipes for her menu plan and to subscribe to her blog where she offers frequent advice for parents on this subject and raising children.
# # #