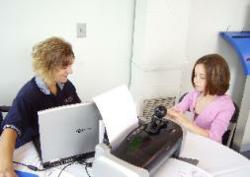 The focus of the day will be on keeping kids safe.
Atlanta, GA (PRWEB) May 08, 2012
Atlanta Mazda dealership Jim Ellis Mazda of Atlanta will be participating in a Keeping Kids Safe Project day at the dealership located at 5855 Peachtree Industrial Boulevard in Atlanta, GA. The event will take place on Friday May 11th from 3pm-7pm and Saturday May 12th from 10am-4pm and is open to children of all ages.
The day will feature free F.B.I. quality digital fingerprinting for children, along with other activities such as an on-site cookout, prizes, giveaways, and kid's activities including the presence of Dekalb Fire and Rescue staff and a firetruck for the children to explore.
"The focus of the day will be on keeping kid's safe by offering their parents means to acquire their children's digital fingerprints in the case of an emergency", states Stacey Hodges, General Manager of Jim Ellis Mazda of Atlanta. "When the police have access to data such as fingerprints, photographs and statistical information, it drastically improves the recovery time of potentially locating your child should they go missing."
S.I.P. Kids will be on hand to take photos and the digital fingerprints of the children in attendance using a digital inkless fingerprint capture device which can be included in a child's file that is given to the parent which they can then provide to the authorities which can help to instantly aid in an investigation.
Jim Ellis Mazda of Atlanta is a local Mazda dealership established in 1983 that serves the Atlanta area carrying full lines of Mazda cars, trucks, and SUV's as well as a large inventory of used vehicles. They also provide full service and repair on-site for all Mazda vehicles. You can view their website online at http://www.jimellismazdaatlanta.com to find out more about the Atlanta Mazda dealership, schedule repairs online, or acquire directions to the dealership.
The Keeping Kids Safe Project is a National Child Safety Program that tours the country providing FBI Quality Digital Fingerprints to families. They have a commitment to always keep the program focused on helping families and only work with local businesses and organizations that are looking to give back to their community. You can read more information on their national efforts to protect children across the country at http://www.keepingkidssafeproject.com/.