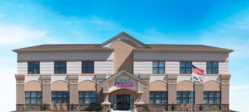 At Children of America, we will work individually with families facing economic challenges to create a plan that works within their budget.
Delray Beach, Fla. (PRWEB) September 24, 2012
With the country facing economic hardships, families are struggling to make ends meet. And in families where parents work two or three jobs just to get by, child care services are a necessity. Children of America Educational Childcare & Academy (COA), aware of the economic challenges families face, has strategically dedicated employee resources to assist in creating financial solutions that support families needing child care but who are struggling to afford it.
"At Children of America, we will work individually with families facing economic challenges to create a plan that works within their budget," said Thad Pryor, CEO and founder of Children of America. "We are a family at Children of America and family matters. We're in it for the long haul, so it's more than just reducing cost - it's about changing the game and making new rules. We sit at the forefront in child care, and we will continue to do so, by building long-term relationships with the families we serve and with out-of-the box thinking when instituting new initiatives."
Beyond working with families on an individual level, COA has a variety of promotional offerings parents can take advantage of to save, including 20 percent off tuition rates for the first 20 families. Children of America will also meet or beat any advertised rate of any national competitor.
"All parents want the best for their children, but affordability is a key component," Pryor said. "Children of America provides a safe and nurturing environment, with a top-notch educational curriculum, value-added programs and innovative security measures to offer the best value for your dollar on child care spending."
Children of America has more than 54 schools in 12 states and offers state-of-the-art facilities designed with learning, fun and safety in mind. The educational curriculum and other programs cater to the needs of children from 6 weeks to 12 years of age.
Parents wanting to check in on their children throughout the day may even monitor their activities from home using the Internet video surveillance program offered at each school.
Among the latest programming to set COA apart from other child care facilities is the Mind & Body Matters program. The program includes three initiatives that emphasize the importance of continuing to learn outside the classroom while encouraging a healthy lifestyle through proper nutrition and fitness. The programs include:

The COA Just Read Program offers a series of interactive books for students that can be accessed online or through smartphones and tablet devices. The program encourages parents to spend at least 15 minutes each day reading with their children to continue building literacy and reading skills.
The "An Apple A Day" Nutrition Program is taking COA's nutrition initiative to a new level by bringing in Jaime Windrow, a registered dietitian, to advise parents through a nutrition blog with healthy cooking tips and recipes, private nutrition consultations and nutritious meal plans.
The schools follow a U.S. Department of Agriculture-approved menu that ensures children are provided wholesome meals and snacks. Meals can be adjusted to meet specific nutritional needs.
The COA Presidential Fitness Program helps instill a love of physical fitness at an early age while emphasizing the importance of building endurance and cardiovascular strength through a variety of activities.
Those interested in enrolling their children or learning more about Children of America may call 855-285-6892 or visit http://www.childrenofamerica.com.
About Children of America Educational Childcare & Academy
Founded in 1999, Florida-based Children of America is a leading provider of high-quality child care and after-school programs. With about 1,500 employees, the firm operates nearly 54 schools in Delaware, Illinois, Indiana, Maryland, Massachusetts, New Jersey, New York, North Carolina, Ohio, Pennsylvania, Virginia and Wisconsin. With the opening of about 14 new schools within the next year, the company will add nearly 450 new employees. An industry pioneer, Children of America's programs are developed to accommodate key age ranges and include innovative teaching methods such as "Tray Tasking," a learning tool proven to promote early reading and writing skills. Children of America is a subsidiary of World Wide Child Care Corp.