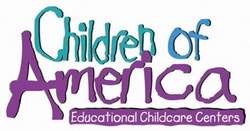 Children of America is building their chain of educational centers on the best practices in the field of child development
LOS ANGELES (PRWEB) June 24, 2008
"Children of America is building their chain of educational centers on the best practices in the field of child development," said Pica. "By launching COA Radio they have moved to help parents become better co-educators of their children, setting themselves apart in the crowded field of early education programs."
Dr. Vicki Folds, vice president of education and professional development at Children of America, states, "We are very excited and pleased to announce our partnership with Body, Mind and Child in providing relevant and current podcasts that connect our families to early childhood topics and resources."
About Children of America
Founded in 1999, Florida-based Children of America is a leading provider of high-quality childcare and after-school programs with 16 centers in Pennsylvania and Virginia and nine additional centers in Delaware, Maryland, New Jersey, New York and Pennsylvania scheduled to open by the end of year. The company has signed 40 leases over the past year and anticipates signing 50 additional leases slated for execution in 2009 that will launch the opening of several new markets including Colorado, Georgia, Illinois, Michigan, Minnesota, North Carolina, Ohio and Wisconsin.
An industry pioneer, Children of America's curriculums are developed to accommodate key age ranges and include innovative teaching methods such as "Tray Tasking," a learning tool proven to promote early reading and writing skills. Children of America is a subsidiary of World Wide Child Care Corp. (WWCC), formerly known as International Child Care Corp. (ICCR).
About BAM Radio Network
The BAM Radio Network was launched to address the severe imbalance in parenting practices caused by the "commercialization of parenting" and the emphasis on intellectual development that excludes the critical role of the mind/body connection in early childhood. Created by leading early childhood experts, the programming challenges the popular genre of parenting notions that has given rise to commercial products like Baby Einstein, Brainy Baby and lapware, all of which claim to accelerate a child's mental development in the face of science that suggests otherwise. The network is a joint venture between New Hampshire-based Moving & Learning and Los Angeles-based Jackstreet Media Ventures LLC. The program is distributed through the Affiliate Nanocasting Network.