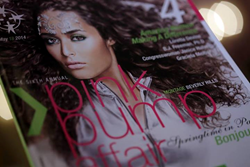 The Pink Pump affair is about the power of pink – it celebrates the link between women and power, particularly the power women bring to philanthropy
Los Angeles, CA (PRWEB) May 28, 2014
More than 300 women, many dressed in pink dresses and shoes, came together at Special Needs Network's annual Pink Pump Gala, which celebrates and honors the women of Los Angeles who are making a difference for underserved families.
One of Los Angeles' most anticipated galas, this year's sold-out event included honorees Congressman Janice Hahn, actress Loretta Divine, autism pioneer Dr. B.J. Freeman and Mattel executive Graciela Meibar. The May 18th gala, themed "Springtime in Paris," also featured a couture fashion show by designer Sue Wong, designer handbag and shoe auction, President's VIP reception, Women of Distinction awards presentation and of course, lots of pink flowers, décor and even a pink candy bar! VIP guests included LA County Supervisor Mark Ridley-Thomas, actors Hosea Chanchez, Stephanie Nogueras, Sheryl Lee Ralph, CA State Assemblymember Isadore Hall and Talk Show Host Rolonda Watts.
"I believe so much in what they're (Special Needs Network) doing," said CBS2 news anchor and event emcee Pam Harvey. "We need to take autism seriously because of how fast it's growing. This is a special kind of outreach that we need."
All proceeds from the event go toward SNN's Parent Advocacy Mentor Program and the Joe Patton Academy Camp (Camp JPAC), the only free summer inclusion camp in South Los Angeles for kids with autism and related disabilities and their siblings, benefiting more than 300 local children.
"When you think about the difference we can make for kids with autism, the difference an organization like this makes in their lives when they might otherwise go unnoticed," said Meibar, who was awarded a Woman of Distinction award. "They have such gifts to give. Everybody needs a break, everybody needs a chance to excel." Meibar's award was presented by Tracy Underwood of Toyota, the gala's presenting sponsor. Wells Fargo, Walmart and NBC Universal-Comcast, CBS were Gold Level sponsors.
"When we created the Pink Pump Gala, we thought - who better to support children with special needs than women, who are the natural nurturers of our society?" says SNN founder and president Areva Martin, Esq. "Camp JPAC resonates with them. The Pink Pump Gala is put on by women for women, giving them a chance to come together, share and empower each other, to show that women as philanthropists are a force to be reckoned with. In our work for SNN and kids who are on the autism spectrum, our female supporters are a force and a power that create change. This event celebrates that exclusively."
Now in its sixth year, the event continues to increase in popularity and sponsorship, which was bolstered this year by a pre-event twitter chat. The chat, which trended using the hashtag "Pink Pump" and resulted in 26 million impressions, brought together celebrity autism moms, advocates and social media influencers for a discussion about autism, resources and the gala. "We were thrilled about the ability to raise awareness of autism and reach millions through the twitter chat as our venue limits our capacity to 300 guests. This intimate setting gives participants a chance to engage and network," says gala co-chair and SNN Board member Bonnie Berry LaMon, Esq. Attended by a select group, "Pink Pump has become a power-player event for the women of L.A."
"The community really gives this event a phenomenal reception," Martin states. "The Pink Pump affair is about the power of pink – it celebrates the link between women and power, particularly the power women bring to philanthropy. When women come together, there's nothing they can't do! Women have the ability to bring about substantial change at all levels. We solve many problems, particularly local challenges, when empowered as philanthropists. The gala celebrates these game-changers."
ABOUT SPECIAL NEEDS NETWORK
Special Needs Network is based in Los Angeles and is California's leading grassroots autism advocacy organization. SNN was established to help individuals and families faced with autism and other developmental disabilities. The organization focuses on raising public awareness, impacting public policy, increasing education and access to resources for families, children and adults. To learn more, visit specialneedsnetwork.org.
ABOUT AREVA MARTIN, ESQ
Areva Martin, Esq. is a mother, multi-award-winning Harvard-trained attorney, author, on-air legal expert, and nationally recognized child's rights advocate. She is the co-founder and president of Special Needs Network, California's leading advocacy organization for children and individuals with special needs, as well as managing partner of the LA-based law firm, Martin & Martin, LLP where she practices special education, labor and employment, and disability discrimination. To learn more about Areva, visit arevamartin.com.