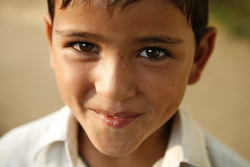 By providing badly needed medical care and supplies to these villages—which are hundreds of miles from urban service centers—we are helping thousands of children toward a healthy, educated, and more hopeful future
Great Barrington, MA (PRWEB) July 14, 2010
Since 2004, RRI has been delivering a range of humanitarian services via horseback to remote communities in the Rajasthan desert (many of them inaccessible by road). Among the programs, the organization has provided to villagers in this region are: the administration of medical, ophthalmic, and dental care with the help of RRI's team of doctors, dentists, and surgeons; the distribution of school supplies and de-worming medication to area schools; and the donation of livestock—an invaluable sustainable food source—to help insure community survival. "While these relief efforts have assisted the communities as a whole", said RRI's founder and Executive Director Alexander Souri, "it is the children in the villages who've benefitted most".
"By providing badly needed medical care and supplies to these villages—which are hundreds of miles from urban service centers—we are helping thousands of children toward a healthy, educated, and more hopeful future," said Souri.
Some of the simplest-seeming aid programs said Souri—such as the provision of de-worming medication and the delivery of educational supplies to small desert schools—can have overwhelmingly positive influences in India where currently only 66% of adults can read.
Basic de-worming medication helps rural children strengthen their immunity toward parasites, to which their compromised nutrition and drinking water exposes them, thus ensuring better long-term health.
School supplies—such as notebooks, drawing pads, pencils, crayons, and sports equipment like soccer balls, badminton and cricket sets—similarly help children stay interested in school. Too often, young children in these communities are forced into agricultural work; only 59% of boys and 49% of girls make it to secondary school education.
Less quantifiable, but equally as important, is the creatively heartwarming social exchange that results between children and relief ride participants. For most children in this region, the arrival of Relief Riders is their first experience with foreigners—and the excitement and curiosity they express during these meetings is inspiring.
"Aiding children is at the heart of RRI's mission," Souri said. "The excitement and gratitude we receive from them whenever we visit their schools is the highlight of our relief trips. And their enthusiasm is matched by the relief riders—who all agree that their experiences helping these village children are unforgettably rewarding."
RRI's relief efforts on the behalf of children will continue during the organization's 2011 relief rides, currently scheduled for the following dates:
Luni New Year's Relief Ride: December 28th, 2010 to January 12th, 2011.
Narlai Relief Ride: January 25th to February 9th, 2011.
Sadarsamand Relief Ride: February 23rd TO March 9th, 2011.
Relief Riders International is an award-winning travel company whose trips—combining adventure travel and humanitarian aid—have been featured in magazines including Outside, Forbes, National Geographic Adventure, and O—The Oprah Magazine. RRI organizes relief rides with the help of in-country medical staff as well as teams of riders—paying volunteer participants who ride rare Marwari horses through the Rajasthan desert to reach isolated rural villages. Along the way, trip participants visit ancient spectacular temples and caves, spot exotic bird and animal life, and take part in traditional cultural celebrations; while dispensing aid, they stay in comfortable tented encampments and dine on freshly prepared local cuisine.
For more information, contact:
Alexander Souri, Relief Riders International:
Tel: 413.329.5876
info(at)reliefridersinternational(dot)com
###