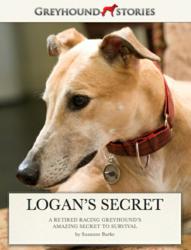 Modern Day Classic!
Dallas, TX (PRWEB) June 29, 2012
Logan's Secret, the first book of a planned trilogy, penned by North Texas-based author Suzanne Burke, offers both children and adults an inspiring story of survival, along with important lessons in goal-setting and perseverance. The 60-page illustrated, modern day classic centers around Logan, a racing greyhound and is told from the champion racing dog's perspective, which makes for fascinating reading by children and the young-at-heart. The underlying story based on facts, adds significantly to the book's appeal.
Logan's amazing journey from the racetrack to his "forever home" takes twists and turns which keeps the story lively while also gently teaching life lessons about overcoming adversity. In addition, author Suzanne Burke offers educational projects for children at the end of the book to stimulate creative writing, expanded vocabulary, and critical thinking.The second two books of the planned trilogy will continue to feature Logan and his adventures with his "humans" on their shared life journey. The subsequent books will focus on leadership, accountability, and other important values.
"Logan's exciting adventure from racetrack to forever home is remarkable enough," says author Suzanne Burke. "But the life lessons he teaches because of that journey are worth sharing with readers – especially children."
Published in the summer of 2012, printed copies of Logan's Secret are currently available through the author's website, http://www.greyhoundstories.com or through Amazon at http://amzn.to/OcVXfl. To download on Kindle, please visit http://amzn.to/MESZft. Books are $12.95 each with a percentage benefiting the Greyhound Adoption League of Texas (GALT) and other greyhound adoption groups.
Interview and/or review requests may be made through K. Wilson Communications at the number shown above or through the author Suzanne Burke at (214) 334-3658 or suzanneburke8(at)gmail(dot)com. Photos available.
Contact: Karol Wilson
K. Wilson Communications
(214) 321-1971 or karolwilson526(at)aol(dot)com