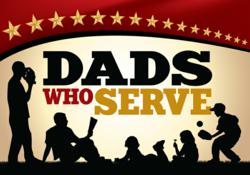 Children who are served by engaged fathers tend to thrive. They are more likely to graduate school at all levels and less likely to end up in poverty
Seattle, Washington (PRWEB) June 07, 2013
The Dads Who Serve campaign is celebrating fathers who serve children directly – as teachers, coaches and volunteers in children's programs. The campaign is using Father's Day as a springboard to celebrate engaged dads for more than just a day. It aspires to encourage more fathers to serve children in their schools and communities by rewarding those who do, by featuring stories of dads who serve and by highlighting the critical role dads can play in programs that serve children.
"Children who are served by engaged fathers tend to thrive. They are more likely to graduate school at all levels and less likely to end up in poverty," says Christopher Redner, CEO of Children In Need and Director of Dads Who Serve. "As a result, many schools are actively recruiting dads to offer their time and talents to students. Dads Who Serve can help by drawing attention to the impact father figures can have on child development and on the quality and security of our schools."
Kids benefit from seeing parents serve firsthand. It's no secret we learn values from our role models. It's important that there are men among a child's positive role models."
Dads Who Serve is collaborating with recording artist Bryan Duncan, whose father/son duet was released to radio this month, to make it easier for people to celebrate dads who are serving children. Dads Who Serve is giving these engaged fathers a free copy of Duncan's Every Father Is A Son at DadsWhoServe.org.
The song, a poignant look at a relationship between a father and his son, features Bryan Duncan's youngest son, Devin, sharing the lead vocals. Devin approached his father about recording the song together for their family.
"My grandfather was in declining health and I thought the song would be meaningful for our family," says Devin Duncan. "I wasn't thinking about recording the song with my dad for an album."
"This song is about the idea of passing on the torch from one generation to the next," says Bryan Duncan. I made the decision to include the song on my Conversations album after my dad died.
"Everything changes when your dad passes away. You think about things you never thought about before. You realize you don't know how much time you've got with your family. I wanted to share this experience with Devin and the song with fathers and their children everywhere."
Bryan and Devin aren't the only dad and son on Every Father Is A Son. Jason Palmer plays drums on the song and his son, Isaac, plays the military-style snare that opens and closes the track.
"When the opportunity to play on Bryan's Conversations album came up it was a dream come true for me," says Jason Palmer. But I never imagined being able to share the experience with my son.
"Bryan knows Isaac is an incredible snare drummer, and the song is about things a father and his son share, so Bryan suggested we include Isaac on the song."
Duncan is visiting radio stations and doing media interviews to draw attention to Dads Who Serve. People are encouraged to share their stories of inspiring dads through the campaign.
Children In Need Inc. is a non-profit organization dedicated to raising awareness and understanding of issues that impact children through programs like World Week and Dads Who Serve. It hopes to encourage people to help and support children in need.