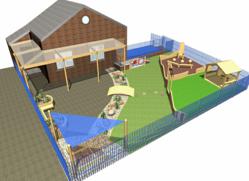 Even though a day of rain can prevent a few hours spent roaming the local woods or paddling in a stream, it is refreshing to learn that finally children are receiving larger amounts of quality outdoor play
Bolton, Lancashire (PRWEB) May 24, 2012
The results of research surveying the parents of 1,250 school-aged children has revealed that 44% were spending more time "playing out" in comparison to 2010, as cash-strapped families encouraged the cost-effective option of time spent for free at local parks and playgrounds instead of expensive toys and computer games.
The study was part of food manufacturer Arla, as part of the Kids Closer To Nature initiative, and offers both reassurance for child health campaigners and a revealing insight into the playing habits of today's children.
Robin Harwood is the owner of Playground Imagineering, retailing wooden climbing structures to schools, nurseries and child-care providers around the country. "This research is fantastic news in regard to the health of the nation's children," he said. "They have been countless highly publicized studies that have not bode well for our children, citing increasing obesity figures and a dependence on technology and video games to keep them entertained as their parents were often not investing enough time on their families. The results of Arla's survey are a breath of fresh air."
Approximately 75% of parents were aware of how affordable a day out visiting local green spaces and parks was and 40% often chose day trips to the nearest coastal town to play on the beaches. The research also noted such outdoor play comes with limitations and is sometimes completely inaccessible because of limited time or unexpected weather changes.
"Even though a day of rain can prevent a few hours spent roaming the local woods or paddling in a stream, it is refreshing to learn that finally children are receiving larger amounts of quality outdoor play," says Robin Harwood from Playground Imagineering, supplier of wooden climbing structures. "This is essential to their physical and social development."
Arla's research also indicated that despite the rise in outdoor play, some traditional activities that were enjoyed in previous decades had been sadly neglected. 65% of parents reported that their child owned a television or DVD player of their own, but only 55% of those children had ever climbed a tree.
"In regards to climbing trees, that figure is astounding," says Robin Harwood, owner of Playground Imagineering; retailer of wooden climbing structures and playground storage. "Climbing trees satisfies curiosity, improves balance and physical health and gives the child a wealth of new experiences." 68% of the children owned a computer games console, a product of our technological culture often blamed for aspects of child obesity.
Robin Harwood has been a Playground Storage provider for a number of years and advises schools, nurseries and child care providers to encourage children's outdoor play, utilizing whatever resources come to hand.
"Sometimes outdoor play cannot always be experienced in the woods or the park for children living within cities where green spaces are few and far between. If parents cannot spare the time, and if necessary transport to facilitate time to play outdoors with their children, it is surely part of schools and care providers responsibility to ensure that their facilities provide the best experience possible. Concrete playgrounds and bare walls are no backdrop to outdoor play, making up games and encouraging young imaginations. School playground furniture, such as mushroom seats and playground benches, that suit the age and aptitude of the children is essential for facilitating active outdoor play."
Approximately just under half of the children surveyed played skipping rope games- a once staple part of entertaining one's self and friends when confined to the back yard or in the school playground. Another activity from previous years that had decreased in popularity was flying a kite; only 59% of the children surveyed had flown a kite at least once in their lifetime.
"I'm aware that the decreasing lack of green spaces and play areas has a part to play," said Robin Harwood of Playground Imagineering, suppliers of Playground Storage and playground furniture. "I think as a nation we may have become too reliant on technology and toys to keep our children amused, as opposed to the simple games we played decades ago."
Approximately half of the children in the Arla research had never built an outdoor den of some kind, such as a tree house or rudimentary shelter. "This activity really surprises me," says Robin Harwood, owner of playground storage suppliers, Playground Imagineering. "As I'm sure we all remember making a den of some kind as kids. The fact that the children of today don't do that means that perhaps an older sibling or parent needs to spend the afternoon showing them how, and what is possible in terms of outdoor play."
Tim Gill, a children's play campaigner and author recognized that the recession was hitting parents hard and forcing them to make savings where they can, but the good news is that "families are realizing that fresh air costs nothing and playing outside fed children's curiosity and imagination."
"Whilst the Arla research indicates that children are getting more outdoor play as a whole, it's important that as both parents and care givers, we don't forget our own responsibilities to provide the best facilities we can to ensure that they have the best experiences possible,' concludes Robin Harwood, owner of Playground Imagineering, school playground furniture and playground equipment suppliers. "This will go a long way toward the health and well being of our children.'
For the very best search engine marketing, search for Vizcom Design.