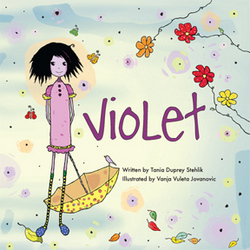 September 2009 (Vocus) September 8, 2009
Second Story Press has published Violet, a picture book that uses color theory—how two colors are mixed to create a third, new color—to explain the idea of mixed heritage to a child. Written by Tania Duprey Stehlik, illustrated by Vanja Vuleta Jovanovic.
Violet lives in a brightly colored world where people are blue and red and yellow, and Violet is a lovely shade of purple. It is the first day of school, and Violet has butterflies in her stomach. Everything goes well, until her father comes to pick her up after class. When another child asks why her father is blue, but she is not, Violet doesn't know how to respond. If her father is blue and her mother is red, why is she purple? Upset and confused, Violet goes home and asks her mother, who eases her distress by using paints to show her how when you combine the colors blue and red, you make a lovely purple-violet.
Violet uses a wonderfully simple metaphor to explain how children who come from mixed heritage may look different than their parents, skillfully dealing with the subject without being heavy-handed. Children will delight in the rainbow of colors that people can come in, and in Violet's quirky world, where butterflies are everywhere and flowers fly out car windows. Author Tania Duprey Stehlik is of mixed heritage, and she based Violet's story on her own experience as a child. Illustrator Vanja Vuleta Jovanovic's digital illustrations create an unusual and whimsical world that charmingly brings to life Violet and her multi-colored surroundings.
Watch the book trailer on YouTube.
Tania Duprey Stehlik is an elementary school teacher in Toronto. She was born and raised in Montreal and takes great pride in her mixed Indian and French Canadian heritage. The story for Violet, Tania's first book, was originally written as a project for teacher's college.
Vanja Vuleta Jovanovic is a multimedia artist and a freelance graphic designer. She was born in the former Yugoslavia and presently resides in Toronto. This is her first time illustrating a children's picture book. Vanja still remembers when she first learned about the mixing of colours to create new ones and how amazed she was.
Violet ISBN: 978-1-897187-60-9. $14.95. Hardcover with jacket, 24 pages, 8.5" x 8.5". For Ages: 5-8. Publicatoin Date: Sept.1, 2009
# # #