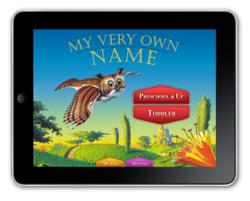 Parents looking for an age-appropriate educational app to promote pre-literacy skills will be pleased with the My Very Own Name app.--Amy Susman-Stillman, Ph.D. Center for Early Education at the University of MN
Minneapolis, MN (PRWEB) November 07, 2011
The world of children's book publishing is changing, as the iPad and other tablets allow publishers to take customization and interactivity to a whole new level. The leading children's personalized book publisher I See Me!, Inc. announces the release of its first personalized iPad app, My Very Own Name. The app is based on I See Me!'s award-winning, classic My Very Own Name personalized children's book, which has sold close to a million copies. This innovative app changes the story and even the illustrations each time, depending on the child's name that is entered. This level of extreme customization, accompanied by interactivity and learning, is a sign of what our newest generation of children will come to expect of their bedtime story.
In the My Very Own Name app, a forest of animals comes alive, and animal characters bring letters one by one to spell out the child's very own name in rhyme. The child has the fun of catching the letters of his or her name as they appear from behind trees and rocks in the scenes of rolling hills. Throughout this beautifully illustrated children's book, the child is encouraged to trace the letters of his or her name, find hidden animals to add to his or her interactive zoo, and learn fun facts about animals.
Maia Haag, author of My Very Own Name and CEO & Co-Founder of I See Me! Inc., wrote this best-selling personalized children's book ten years ago to celebrate the uniqueness of each child, and to teach children letter recognition and how to spell their names. According to Haag, "We wanted to extend the experience of our classic children's book by creating an interactive app for toddlers and preschoolers, to bring the book alive and encourage the child to read the book over and over again by making it fun as well as educational."
The I See Me! co-founders Maia and Allan Haag connected with digital partner Popular Front to develop the My Very Own Name app. According to Popular Front President Jason Ulrich, "The new My Very Own Name app combines personalization and award-winning creative to deliver a children's book that is truly unique for today's app-savvy child. For parents and children alike it's an amazing opportunity to explore, learn and connect, using the foundation of any child's identity, their name."
The Haags also ensured the app was reviewed from a child-development perspective. According to Amy Susman-Stillman, Ph.D. and Co-director of the Center for Early Education and Development (CEED) and the University of Minnesota, "I'm careful when it comes to how technology plays a role in the lives of young children. Here, I am impressed with what I See Me! has created to extend the pre-literacy learning opportunities for young children. The My Very Own Name app gives toddlers and preschoolers the opportunity to explore the letters of their name in fun, engaging ways so that they will be motivated to keep on learning the alphabet and the wonderful world of words. Parents looking for an age-appropriate educational app to promote pre-literacy skills will be pleased with the My Very Own Name app."
The app can be downloaded for $4.99 on the Apple store by clicking this link, or searching for "I See Me" or "My Very Own Name" through the App Store on your iPad.
I See Me! Inc. creates high-quality books personalized children's books that feature the child's name in the story. Maia and Allan Haag's mission is to increase self-esteem in children through personalized books and apps that celebrate the uniqueness of each child. For more information or to take a free virtual tour of the children's books, visit http://www.ISeeMe.com or call 1.877.744.3210. To watch an instructional video about the release of the new iPad app, it can be found on Youtube.
# # #