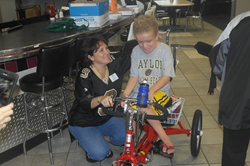 When children in our community require help, the only thing we can do is roll up our sleeves and make sure they receive what they need.
Bedford, TX (PRWEB) October 01, 2015
The Golseth Agency, a locally owned insurance provider that serves Bedford, Flower Mound, and the surrounding communities, is launching a charity drive to support James, an 11 year old boy who suffers from debilitating physical disabilities and requires a specialized mobility solution.
James was born disabled and has had difficulty socializing with children his age due to his lack of mobility. Several years ago, James received his first AmTryke – a therapeutic three-wheeled cycle – and enjoyed increased freedom and mobility for a time. James has now outgrown his original AmTryke and needs a new one, however it is a costly piece of medical equipment presently outside the financial reach of his parents.
"When children in our community require help, the only thing we can do is roll up our sleeves and make sure they receive what they need," says Maria Golseth, owner and manager of the Golseth Agency. "This is especially true for children who have special needs and require special solutions."
Golseth and her team are utilizing an extensive list of professional contacts and personal relationships in an effort to advocate on James' behalf and gather donations that will be used to purchase his new AmTryke. The team is also working on a web-based social media presence that they hope will draw in support and donations from other nearby communities.
In addition to working to ensure James receives his new AmTryke and enjoys improved freedom and mobility, the Golseth Agency team has worked with several other local causes and charities over the past few months and plans to work with another new charity every 30-60 days as part of an ongoing community involvement program entitled "Agents of Change."
Readers who wish to assist the Golseth Agency as they work to procure an Amtryke for James are asked to visit the dedicated charity page established by the Golseth team and make a personal donation to his cause: http://www.thegolsethagency.com/Help-James-Ride-Towards-Independence-_17_community_cause. Readers who would like to learn more about the other charities assisted by the Golseth Agency now and in the months to come are invited to bookmark their Community Causes page, located here: http://www.thegolsethagency.com/community-cause.
About The Golseth Agency
The Golseth Agency's mission as a team is to provide the best insurance and financial services in the industry. Their number one job is to protect the current assets clients have worked so hard for, and to help them invest so they can retire with the right amount of money. Golseth's success is measured by customer satisfaction and the value they bring. The capable agents at The Golseth Agency can be easily reached at 817-540-1133 and 972-874-8200.