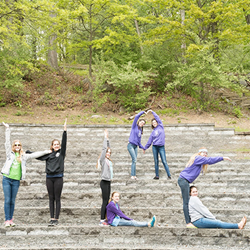 This is the third year we've worked closely with Camp HLC to help provide for regional families struggling with ALS, and we hope everyone in our community will come out and show their support for this important cause
Lawrenceville, NJ (PRWEB) January 19, 2017
For the third year running, Noto Insurance Advisors, a locally owned insurance agency which serves Lawrenceville, New Jersey and the surrounding area, is inaugurating a charity event to help raise funds for Camp HLC.
Amyotrophic lateral sclerosis (ALS), more commonly known as Lou Gehrig's disease or motor neurone disease, is a deadly neurological disorder that affects more than 30,000 American families. Camp HLC is the only non-profit of its kind, and is specially designed for children and young adults from families with a parent or grandparent living with ALS.
"This is the third year we've worked closely with Jodi O'Donnell and Camp HLC to help provide for regional families struggling with ALS, and we hope everyone in our community will come out and show their support for this important cause," says John Noto, founder and executive director of Noto Insurance Advisors.
Utilizing a broad range of social media and email communication channels, Noto and his team are working to mobilize support for the Camp HLC charity event by directly contacting families and civic leaders in the region. Further efforts to gather publicity for the event will include a full length feature story on Camp HLC in the upcoming edition of "Our Hometown," a monthly online magazine published Noto Insurance Advisors: http://www.notoinsuranceadvisors.com/Our-Hometown-Magazine_39.
A dozen charitable causes, nonprofit organizations, and local charities operating in Lawrenceville have received support from the Noto team and their Concierge Members over the last two years. Noto Insurance Advisors is a long time member of the national "Agents of Change" charity support network, and plans to continue working with regional charities regularly.
For those who want to know more about the charity event supporting Camp HLC, Noto Insurance Advisors is extending a personal invitation to visit the following page and take action to further the cause: http://www.notoinsuranceadvisors.com/Hope-Loves-Company-%7C-Camp-HLC-2017!_27_community_cause. More information on charity drives sponsored by Noto Insurance Advisors in the past can be found on the agency's Community Causes page: http://www.notoinsuranceadvisors.com/community-cause?page=1.
About Noto Insurance
The team at Noto Insurance Advisors is committed to offering the best insurance and financial services in the industry. In addition to providing clients with top-notch protection, coverage, and advice, Noto Insurance Advisors actively assists the local community by investing time and resources into charity campaigns directed at improving the quality of life of residents throughout New Jersey. A helpful Noto Insurance Advisors representative can reached at (609) 895-8450.