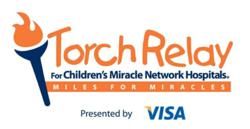 Fundraising activities conducted by our Children's Miracle Network Hospitals partners, like Torch Relay and Marriott, play a vital role in maintaining the quality of care provided to the children we serve
Dallas, TX (PRWEB) October 18, 2011
Residents will join more than 10,000 participants from 28 cities as part of the 10th annual coast-to-coast Torch Relay to raise money for Children's Miracle Network Hospitals, a non-profit organization that raises funds for children's hospitals.
The Torch Relay for Children's Miracle Network Hospitals is a multi-day event that traverses the country each fall, with participants walking, running and cycling to raise funds for their local Children's Miracle Network Hospital.
The DFW relay is a 3 mile walk that starts at Victory Plaza in Dallas. Walking alongside friends, family and co-workers, participants in DFW will be raising money for Children's Medical Center and Cook Children's. Children's Medical Center located in Dallas, Texas and Cook Children's located in Fort Worth, Texas are two of 170 Children's Miracle Network Hospitals that treat 17 million children each year.
"Fundraising activities conducted by our Children's Miracle Network Hospitals partners, like Torch Relay and Marriott, play a vital role in maintaining the quality of care provided to the children we serve," said Natalie Houghton, Cook Children's Health Foundation.
Last year's event in DFW raised over $17,000, bringing the national total in 2010 to more than $1 million. The goal of the 2011 relay is to raise $1.5 million for Children's Miracle Network Hospitals across the country. Information about registration for the event is found at Torch-Relay.org.
Scheduled Torch Relay stops for 2011 include: Chicago, Ill.; Detroit, Mich.; Pittsburgh, Pa.; New York, N.Y.; Jersey City, N.J.; Richmond and Newport News, Va.; Bethesda, Md.; Columbus, Ohio; Denver, Colo.; Salt Lake City, Utah; Las Vegas, Nev., Los Angeles and Orange County, Calif.; Phoenix and Tucson, Ariz.; Dallas/Ft. Worth, San Antonio and Houston, Texas; Nashville, Tenn.; Hilton Head Island, S.C.; Miami/Ft. Lauderdale, Marco Island, Lakeland and Orlando, Fla.
About Children's Miracle Network Hospitals
Children's Miracle Network Hospitals® raises funds for 170 children's hospitals across the United States and Canada, which, in turn, use the money where it's needed the most. When a donation is given it stays in the community, helping local kids. Since 1983, Children's Miracle Network Hospitals has raised more than $4 billion, most of it $1 at a time. These donations have gone to support research and training, purchase equipment, and pay for uncompensated care, all in support of our mission to save and improve the lives of as many children as possible. Learn more at CMNHospitals.org.
###