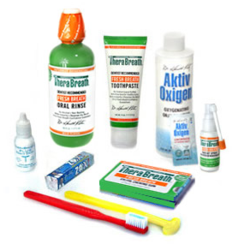 Children need to be taught about proper oral care to prevent poor health issues, such as gingivitis, loss of teeth and halitosis.
(PRWEB) April 17, 2012
Parents have the responsibility of teaching children how to develop good oral care habits and select healthy oral care products. It is important that kids stay away from some toothpastes and mouthwashes due to ingredients that may be inimical to good oral health, such as alcohol and certain dyes. Children should also be warned about how poor oral care can contribute to unwanted and unpleasant health issues, such as gingivitis, loss of teeth and halitosis. As oral health product options with natural, non-toxic ingredients become increasingly available, concerned parents need to stay informed and share the information with their children to develop a solid oral care regimen that may be used throughout life.
A brief catalog of oral care ingredients used by many pharmaceutical companies includes alcohol, sodium lauryl sulfate and saccharin.
Alcohol in Oral Health Products
When used in oral health products, alcohol acts primarily as a masking agent and may actually make your breath worse by creating a dry mouth. Alcohol, in chemical terms, is classified as a desiccant, or drying agent and the dryer your mouth gets, the worse your breath gets. Dry mouth leads to bad breath due to a decrease in saliva, which helps to flush bad breath bacteria out of the mouth.
Sodium Lauryl Sulfate in Oral Health Products
Sodium lauryl sulfate (SLS) is an ingredient in most toothpaste products that is used to create foaming and is also the main ingredient in many shampoos. Sodium lauryl sulfate has been proven to dry out the mouth and is also scientifically linked to canker sores. The harshness of SLS may also create microscopic damage to oral tissue, which then sheds and provides a protein food source to bacteria that create bad breath.
Saccharin in Oral Health Products
Saccharin in toothpaste is used as a taste additive and has no oral health benefit.
Children must be continuously advised about which oral care products are the most efficient at maintaining a health mouth, and which are not. That task has been made easier with the emergence of oral health care products containing only natural ingredients. All natural toothpaste and mouthwash products should not contain alcohol, SLS or other harsh or harmful chemicals that have long been associated with oral care. A good example of an oral health brand that provides products with only natural ingredients is TheraBreath®.
Children with ADHD and Oral Care
Children with attention disorders may have difficulties complying with oral health care. This is due to children with ADHD (Attention Deficit Hyperactivity Disorder) functioning at a lower age level in the dental setting and also due to a reported higher frequency of food and beverage intake, with a lower frequency for tooth brushing. Many children with ADHD also have problems concentrating and focusing on oral care (not unlike young children in general). To help improve a child's ability to properly clean his or her teeth, it is advised to reduce visual and audio noise and provide clear communication on what needs to be done. The use of pictures and vocally praising the child for completing his or her oral health regimen are other techniques to help improve the oral care in a child with ADHD (ref: Pediatric Dentistry: A Clinical Approach). Another important fact to consider is that the use of certain food dyes has been linked to ADHD, irritability, restlessness and sleep disturbance in children. This makes it even more important to use oral health products that are dye-free and composed of only natural ingredients.
Mouthwash and Oral Hygiene
Mouthwash products have become an important part of oral hygiene. When used to combat halitosis, most mouthwash products are effective for only a short time. This is most common in mouthwashes that use alcohol as a masking agent. The alcohol hides the bad breath on a short-term basis, but actually dries out the mouth in the long run. A dry mouth does not have enough saliva to wash away bad breath bacteria. Using an alcohol-free mouthwash will not dry out the mouth and will also eliminate the risk of the child ingesting alcohol.
A Line of Natural Ingredient Oral Health Products
Dr. Harold Katz created TheraBreath® to provide patients with a safe, reliable and continuous oral health care solution. TheraBreath® is also endorsed as a green product, a testament to Dr. Katz's desire to provide oral treatments that are not only good for people, but also good for the planet. TheraBreath® products have only natural ingredients and are backed by a 100% money-back guarantee. They are vegan, certified kosher and sugar-free. To find TheraBreath® products, visit http://www.therabreath.com.