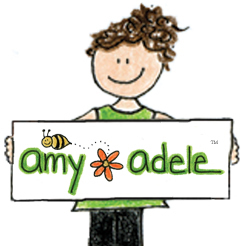 I remember lying in bed one night laughing with my husband about the idea. Would people really want to buy my artwork? I don't have an art degree and I haven't even studied art. I'm just a young mom with two sweet girls and I love to draw with colored pencil
Greer, SC (PRWEB) December 27, 2007
On Christmas morning many of spend the day relishing in the joy of the smiles on our children's faces. Watching their eyes light up as wrapping paper flies overhead, we hear them exclaim, "This is what I've always wanted!" We wait with camera in hand as we capture those priceless expressions that will be treasured forever. Our children play endlessly that day with new gifts, go to bed warmer that night with new pajamas, and laugh more that week with candy-filled bellies.
What about the gift-givers? Sure, we gave them gifts, and then, of course, Santa made a contribution. But how do our children say "thank you" to the others in our lives who thought about them on this special day?
In years past, Amy Adele, a South Carolina artist, would remember those people who thought of her children every year by creating very special thank you notes with her artwork. "With my own children, I've tried to convey that whoever gave them the gift has gone to a lot of time and effort to pick it out, and this is one small way that you can thank them."
In 2005, with the encouragement of family and friends to introduce her artwork publicly, Amy Adele started her web-based business, http://www.AmyAdele.com , selling personalized stationery, thank you notes, address labels, and party invitations.
"I remember lying in bed one night laughing with my husband about the idea. Would people really want to buy my artwork? I don't have an art degree and I haven't even studied art. I'm just a young mom with two sweet girls and I love to draw with colored pencil", Amy says. But since 2005, AmyAdele.com has become a rapidly growing business, proving the value of a thank you card.
During the Christmas season designs such as snowmen, Christmas trees, gingerbread men, and Christmas lights are popular choices. However, everyday designs tailored to a child's personality remain hot sellers. Cute designs include fairies, horses, fire trucks, princesses, monkeys, and a butterfly or two. Each personalized stationery design helps make writing thank you notes fun for both parents and children.
"Both of my daughters love to see their name in pink. For many children, what was once a chore is now a fun exercise when they choose a favorite design and font that fits their personality. The end result is a personalized thank you to gift givers and an expression of love from a child's heart," stated Amy Adele.
Each card is personalized, based on the customer's request, with names, nicknames, quotes, "Thank You", "Awesome!", "Loved it!", etc. - anything the customer decides. Different fonts and colors are also an option that makes Amy Adele's cards more personable.
Artist Amy Adele continues to draw and introduce new card designs on AmyAdele.com. Especially exciting is her new line of personalized t-shirts for children, which was introduced in October 2007.
About Amy Adele
Amy Adele manufactures hand drawn custom stationery, invitations, calling cards and other paper products as well as t-shirts and one piece outfits for babies. The online store allows customers to choose a favorite design and personalize it with a name or phrase and choose from many unique fonts and colors. The entire process can be personalized and previewed online at AmyAdele.com.
Company headquarters are located at 8 Parkway Commons Way, Greer, SC 29650.
Telephone: 864.877.6200
Toll Free 800.920.6926
Website: http://www.AmyAdele.com
General Email: help@amyadele.com
###