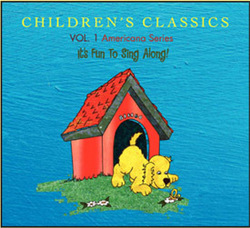 Its Fun To Sing Along
Vernon, NJ (PRWEB) September 30, 2009
Hitplay records, the newest RED/Sony Music affiliated label, is proud to announce the launch of Lifepathentertainment, http://www.lifepathentertainment.com, its new children's music division. Lifepath quality children's music will be distributed through both its RED/Sony Music parent label connections and through its own web based distribution network. The first release, Children's Classics Americana Vol 1 "Its Fun To Sing Along," will contain 18 all time childhood favorites, plus one bonus track. The song selection includes all-time classics such as BINGO, Itsy Bitsy Spider and The Old Grey Mare, timeless children's songs that will be welcomed in every child's music collection.
V"Lifepathentertainment's goal is to produce extraordinary children's music with a difference," states President Phil Garland. Part of that difference is in the production. The recordings are quality productions, using real instruments with professional musicians and singers, not synthesized artificial music.
Hitplay recording artist Elisa Girlando does the majority of the singing on the current CD and is backed by some very talented musicians. "The problem with most children's music is to adults its unlistenable," says Garland, "and as we all know, if a child likes a CD, adults are going to hear it quite a bit!" Hitplay's answer is to make the recordings stand out so the child loves the song and a parent or grandparent can listen along without 'going crazy!' "If we can create music that hits a note with children, and that parents or grandparents will enjoy as well, we have achieved our goal," says General Manager Dave Bollard. "We foresee every parent and grandparent wanting these for their children for some time to come. They are timeless."
Children's Classics Americana Vol 1 "Its Fun To Sing Along" was recorded and arranged at the Hitplay recording studios located in Vernon, New Jersey, and contains 18 classic songs, plus the original song "I Love My Dog," written by Garland.
As an added bonus, the lifepathentertainment web page, http://www.lifepathentertainment.com/childrens-activity-pages-thumbs.html, is being developed to enhance children's experience. "Each song on the CD creates a theme and each theme has online activities for children," says Garland. The added value activities include downloadable lyrics, puzzles, mazes, coloring pages, etc. A parent can go to the web page sign-up and their child will have access to multiple fun downloads with the online activity book, and it's completely free! "Additionally, free mp3's as well as other special offers will be made available to parents who sign up online," states Bollard. "We want the web page to become a great resource for parents, grandparents, as well as teachers."
Developing the artwork for the page is Changing Images Founder and Executive Artist Arlene Sullivan. Ms. Sullivan has a degree in art and has been teaching for over 30 years. Additionally the Changing Images Foundation brings artwork to children and adults alike throughout the world. CEO Phil Garland states, "Lifepath feels honored to be working with such an inspiring person as Ms Sullivan."
The idea of combining great musicians with timeless children's music, producing quality recordings and using the internet to give children added hours of fun downloading the online activity book makes Lifepathentertainment unique to the world of children's music. The first CD, Children's Classics Americana Vol 1 "It's Fun To Sing Along" will be released October 15, 2009, a perfect gift for children ages 2-6. For more information, please visit http://www.lifepathentertainment.com.
For more information, contact:
Dave Bollard
HitPlay records
Lifepathentertainment
973-713-3384
###