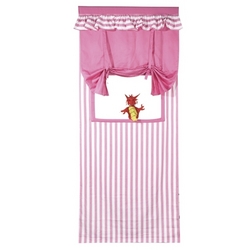 Kids thrive on imagination, and hi-tech games take away that opportunity...
(PRWEB) December 10, 2009
While millions of parents around the world find themselves staring blankly at a barrage of toys in a toy store, Australian manufacturer Annie B's have taken their latest release to parents, unveiling the Childrens Puppet Theatre at gift markets in Sydney this week.
Most parents tend to overlook the less technical toys, thinking they are outdated, but Annie B's director Ann Anderson is quick to disagree: "You cannot surpass the vast benefits and fun play from hands on interaction. Kids thrive on imagination, and hi-tech video games and the like are taking away that opportunity."
Flanked by Paediatric Occupational Therapist Olivia Rivero during the release, Ms. Anderson is confident her latest designs will both win hearts and are ideal for child development. "These are the sorts of therapy tools we use in our treatment" states Ms. Rivero, "robust designs that meet tough safety standards and do not have lots of bright colours, attachments or too many compartments. Simple designs are what stimulate imaginative play more effectively, and they also are more versatile."
Therapists, school teachers, childcare professionals and 'switched on' mums and dads use children's puppet theatres to assist children in the development of fine and gross motor muscles, cognition such as imaginative play, speech and language, social skills and emotional maturation.
The new generation puppet theatres from Annie B's will attract attention in the education industry due to their simplicity, ease of storage and affordability. Conventional theatres were bulky, heavy, expensive and not environmentally friendly. The new hanging theatres are secured to a door frame, ceiling or a tree within seconds.
Annie B's puppet theatres are made from 100% Indian cotton, are machine washable and can be easily folded away. Natural fibres breathe better and the dyes used are hand mixed from 100% renewable vegetable and mineral sources.
Sure to stimulate children for years to come, Annie B's childrens puppet theatres will outlast many digital and electronic toys. Finger or hand puppets can be made by children as young as 2 years of age and form part of the educational processes.
Available for purchase online now at AnnieBs.com.au along with these time proven favorites:
Play Palace
Kids Bean Bags
# # #