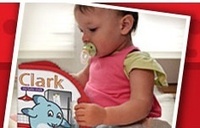 Educated parents are searching for non-electronic alternatives. They are finding Clark, seeing that it works, and they are telling their friends
Portland, OR (PRWEB) October 30, 2009
Parents are disillusioned with electronic products that claim to benefit their baby's development. Disney's announcement last week offering refunds to all purchasers of Baby Einstein videos that falsely claimed to be educational highlights this frustration. In their search for proven ways to help their babies build vocabulary and cognitive skills, parents have discovered Clark the Baby Shark, a series of reading toys built on dialogic reading systems recommended by early literacy experts.
"So many parents want to subscribe their one-year-old to our preschool magazine, Tessy and Tab, we decided to research and develop the perfect reading start for babies" explains Judy Johnston, CEO of Blue Lake Children's Publishing children's magazine. "All the experts in the field told us that the place to begin is with dialogic reading - putting familiar and colorful objects on the page so that the baby can point at them and the parent can build a dialogue about the pictures. And parents told us they wanted something that the baby could also play with independently, and that they could safely chew on."
The explosion of electronic media - videos, electronic toys and even TV channels for babies - that began in the 1990's was followed by a serious backlash a decade later. Research-based institutions such as The American Academy of Pediatrics issued serious guidelines: they recommend no screen time for children under the age of two. Parents were forced to find other sources of developmental activities. At the same time, reading experts were showing methods of reading with babies that provided additional early literacy benefits beyond traditional "read aloud" method.
Baby reading experts and product design engineers helped the company create a series of "reading toys" sturdy, laminated "books with no pages and chewable edges". They also created a new character, Clark the Baby Shark, who has just one tooth and wears a diaper. The first set in the series features Clark in three different baby-recognizable settings: In the Bath, At the Park, In the Kitchen. Educational baby toys.
The first production build of Clark Sets sold out within three weeks. Now that Clark is one year old, the company sees steady growth. The set of three reading toys is $29.95 and comes with The Parent's Guide to Reading With Babies and Toddlers.
"Educated parents are searching for non-electronic alternatives. They are finding Clark, seeing that it works, and they are telling their friends" says Johnston.
Clark the Baby Shark early reading program can be ordered online at our website.
About Blue Lake Children's Publishing
Blue Lake Children's Publishing was founded in 2002 to create way for today's kids to "Love words early." Their first product, The Tessy & Tab Reading Club for preschoolers, is a twice-monthly magazine for ages 2-6 featuring Tessy the duck and Tab the kangaroo in genuine preschool life experiences.
# # #