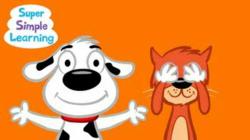 Television shows like Dora the Explorer and Sesame Street are as much classroom as entertainment.
San Francisco, California (PRWEB) April 24, 2013
The popularity of children's videos on social media cannot be denied. Downloads of YouTube videos made for children are in the hundreds of billions. Many of the most successful are re-makes of classic kids stories and music. Video's like I'm a Little Teapot, the ABC Song, and, Twinkle Twinkle Little Star drive significant downloads and a loyal fan base. Experts claim shifts in the way content is produced and in parental attitudes are responsible for these changes.
Many popular children's videos combine education and entertainment. The creation of quality content is not new to children's entertainment, nor is it a phenomenon limited to online viewing. Children's television producers have been focusing on education as content since Sesame Street went on the air in November of 1969. Over the past fifteen years, the trend in children's content has focused more and more on well researched content that entertains while it educates. With the success of online videos, producers have more information then ever about who is watching their content and how. Online analytics give producers insight into viewers habits, demographics, and even the efficacy of educational curriculums embedded in videos. The result is a dramatic shift in viewing habits in children ages five and under and viewing permissions by parents, but also a shift in how producers determine how content and education are integrated into a video.
Dr. Ana Aguirregabiria is a London based child psychiatrist who has been studying trends in children's viewing habits in the US and UK. Dr. Aguirregabiria says studies compiled by the National Center for Education Statistics (NCES), BBC, Neilson ratings information, and other TV and online media studies all show a decline in television and online video consumption among young children over the past twenty years. There has been a change in children's programming fueled in large part by changes in parental guidance and time limits for viewing placed on kids. "Weekly viewing among young children declined from the late 90's through the millennium, but by 2009 Neilson polls showed an uptick in weekly viewing among youth fueled in large part by parents perception that television shows like Dora the Explorer and Sesame Street are as much classroom as entertainment." Over the past five years parents have become welcoming of YouTube videos which offer education on demand and suit toddlers short attention spans while inviting interaction.
"Learning among toddlers comes from interaction and repetition," says Dr. Aguirregabiria. "Young children repeat what they see and hear and enjoy seeing and hearing the same comforting songs and videos over and over again." The repetition may be comforting to children but it can be maddening for adults. "Toddler's like repetition, but it drives parents crazy," says I'm a Little Teapot producer, Bob Mendelsohn. "The most common comment is parents saying their child watches our video every morning."
While adults typically watch a video only once or twice, experts estimate that children are 10 times as likely to watch a video repeatedly. In fact, the constant repetition of these songs is one of the biggest common complaint on parenting forums.
The Teapot song bucks that trend. When asked about the success of the teapot video Mendelson claims it is the quality of the animation and creative twist in the song that makes the video so popular as opposed to the message. "I didn't create that video to teach. I created it because it made me laugh and I hoped it would make someone else laugh as well."
Dr. Aguirregabiria sums it up simply: "As parents encourage children to spend more time in the safety of their homes and encourage more and more online learning the popularity of children's videos will grow."