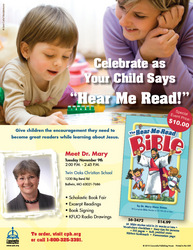 St. Louis, MO (Vocus) October 27, 2010
Twin Oaks Christian School will host a community event where Dr. Mary Manz Simon will read excerpts from her new children's book, ''The Hear Me Read Bible'' to level one readers. Dr. Simon will also sign copies of her newest title and other books for attendees.
The event, which is open to the public, takes place Tuesday November 9 from 2:00 p.m. to 2:45 p.m. at 1230 Big Bend Rd. Ballwin, MO 63021-7686 in the Twin Oaks Reception Hall. KFUO Radio station will be present to host a drawing and share program offerings.
With more than one million copies sold in English, the ''Hear Me Read'' series has helped thousands of children learn to read.
Using fewer than 25 words to tell a complete Bible story, the eighteen books in Level One of this series feature natural language, repetition and prediction. Now these best-selling stories have been compiled in a single volume, ''The Hear Me Read Bible.'' Parent notes and vocabulary lists are included for every story.
"Although we appropriately emphasize skill development, confidence in those abilities is also important,'' Dr. Simon says. ''With less than 25 different words in each story, a child's confidence soars as he successfully moves from page to page."
Dr. Simon is noted as one of America's top parenting pros. According to her blog, she's built a career out of carpools and soccer games. She's authored a number of titles with Concordia Publishing House, including books in the ''Little Visits'' library; the ''Hear Me Read'' series; ''God's Children Pray;'' ''Stop! It's Christmas;'' and more. Dr. Simon's books have sold more than 3 million copies and are available in 10 languages. Her nationally syndicated radio program, Front Porch Parenting, airs daily on more than 200 broadcast outlets.
''Learning to read is a lengthy, challenging process,'' says educator and author Dr. Mary Manz Simon. ''Many elements need to come together before a child can actually decode the scribbles on a page. A huge bonus is that a child not only learns to read, but learns to read about Jesus. What a joy when a child says, 'Hear me read.'"
Visit cph.org/hearmeread or call 1.800.325.3040 to order ''The Hear Me Read Bible'' for every child you know today.
*Review copies (subject to publisher approval) and interviews available by request.
Resource Links:
Social Media Release: http://pitch.pe/97256
Hear Me Read video: http://www.youtube.com/watch?v=_G-ibfOwgmU
Dr. Mary Manz Simon blog: http://marymanzsimon.wordpress.com/about-2/
Concordia Publishing House: http://www.cph.org
CPH Media Room: http://www.pitchengine.com/newsroom.php?id=9296
Concordia Publishing House is a not-for-profit publishing company and the publisher of The Lutheran Church—Missouri Synod. The company offers more than 8,000 products for use in Christian congregations, schools, and homes. Visit CPH on the Web at cph.org.
Media Resources:
View this or previous releases or download via Word or PDF on Scribd: http://www.scribd.com/cphnews .
# # #