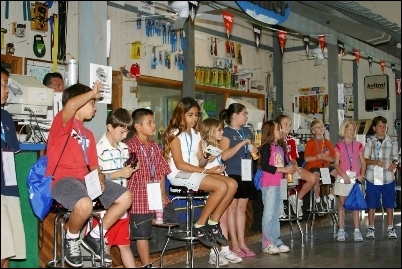 We are very excited about this project
Phoenix, AZ (Vocus) December 5, 2006
Ewing Irrigation, Golf & Industrial has partnered with WeWrite LLC to develop a children's book focusing on water management and conservation. "All Dried Out", a book--written by kids, for kids--explores the issue of water as a limited resource, and follows a set of twins on an adventure to explore the causes of a water shortage as they attempt to find solutions to this very important problem.
"We are very excited about this project," stated Douglas York, President of Ewing Irrigation. "This is an amazing opportunity to unite our passion for education, conservation, and family in the spirit of promoting awareness of the value of managing and saving water in outdoor environments."
Sixteen children from California, Arizona, Colorado, and Texas were invited to participate in a book-writing workshop held on October 15 & 16, 2005, at Ewing's corporate office in Phoenix, Arizona. The children, ages 8-13, received a brief, general introduction to the topic of water use and were then granted the freedom to brainstorm and act out portions of a story.
"I liked working with other kids to write this book," said twelve-year-old participant Austin Paetow. "I will now look for more efficient ways to conserve water!"
Every child contributed to the storyline, describing scenes, identifying issues faced by characters, and developing dialogue with minimal guidance from a workshop facilitator. On-the-spot illustrations were performed by Troy Freeman, Creative Director of Dig-It-All Designs, based on the descriptions of the workshop participants. Each soft-bound, full color, 68-page book includes tips from professionals and water facts that will spark young imaginations as they tackle water management issues.
Ewing aims to continue partnering with water districts to promote water conservation education programs, and hopes that All Dried Out can be integrated into new and existing curriculums.
"Empowering children as they imagine, tackle solutions, then write a book for other children is one of the most exciting things I can imagine," stated Delores Palmer, President of WeWrite LLC. "It's exciting to watch these young minds offer a fresh look at the powerful issue of water conservation, and imagine creative solutions. WeWrite is honored to share the vision of publishing books by kids with such a forward-thinking company as Ewing."
Funded by Ewing Irrigation with support from the Irrigation Association Education Foundation (IAEF), "All Dried Out" will soon be available for purchase through various distribution sources, bookstores, and http://www.wewrite.net. (ISBN# 1-57635-063-0).
WeWrite LLC, an acknowledged leader in kid-to-kid literature since 1993, specializes in publishing books by kids for kids. Over 50 group-authored books have been created within book-writing workshops, with an illustrator sketching while children share their kid-wisdom with the world.
Ewing Irrigation offers commercial and residential irrigation supplies, landscape and agronomic products, water management solutions, low-voltage lighting, erosion control, water features and industrial plastics to professionals serving the landscaping, turf, golf, and industrial industries. Ewing offers more than 165 convenient locations from coast to coast.
*Photographs available. Please email lhyland @ ewing1.com with your request.
###