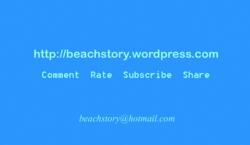 "wonderful and delightful!" - Florinda Evans
Denver, Colorado (PRWEB) February 20, 2013
Looking for a fun way to warm up these winter months? Need time for a short vacation? "Sometimes the Beach…" layers beautifully written text with ocean sounds, beach music, and a lively voice talent to let your imagination soar. While most children's beach books focus on a character going to the beach, "Sometimes the Beach…" centers the story around the beach itself as a character. There is Morning Beach, Sunny Beach, Cloudy Beach, Stormy Beach, Sunset Beach, and Moonlit Beach. Each beach provides its own feel, activities, environment, and emotions as seen through the eyes of a young African American boy. To the child, the beach provides unique experiences that captivate his emotions and give him deep love for the beach. It is as if he is visiting a friend.
"Sometimes the Beach..." audio book has gotten great ratings and reviews. "That was wonderful and delightful!" writes Florinda Evans. "wonderful" writes Jasmine Marshall. "Lovely storytelling by Scott and Gary." writes Martha Cataldo. "What a perfect story!" writes Lisa Uribe.
"Sometimes the Beach…" is currently an unpublished title. Author Scott C. Johnson has posted on his blog that he is considering self publishing the book and is looking for an illustrator. Future plans might also include the selling of the audio version.