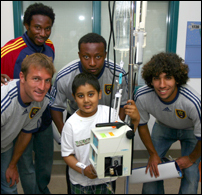 Madera, CA (Vocus) March 23, 2007
Starship Craycroft, Children's Hospital Central California's new inpatient oncology unit is now officially open for business.
The new Starship Craycroft has 36 private rooms, including six isolation rooms. It features the Hospital's updated color palette, with various shades of blue, coral and purple on the walls. The unit has full HEPA filtering, which helps promote a clean air environment. The rooms house kids being treated for cancer, as well as hematology and nephrology patients.
On March 21, staff carefully moved each patient, room by room, from the existing 32-bed unit into the new wing. It took about three hours to settle the children into their new, brighter rooms. In all, Children's Hospital staff moved 31 patients.
The first patient to make the transition was 9-month-old Renée Nies, of Merced, California (Photo available). The nephrology patient has spent every major holiday in a hospital since she was born. Her mother, Emily Langdon, said she didn't know when they arrived on Tuesday night, they would be celebrating 'moving day' at Children's Hospital.
The first official visitors to the new Starship Craycroft were players from major league soccer team Real Salt Lake and Fresno Fuego. Soccer stars Freddy Adu, Eddie Pope and Jason Kreis chatted with patients and autographed posters.
The old 32 bed unit will be renamed Starship Voyager and converted to acute care medical beds in the near future. The addition of these new beds brings the total to 297, making Children's Hospital Central California one of the ten largest freestanding children's hospitals in the country.
About Children's Hospital Central California
Children's Hospital Central California is one of the 10 largest freestanding children's hospitals in the country, and serves kids from Stockton to Bakersfield and the Sierra Nevada Mountains to the Central Coast. Children's Hospital has numerous highly specialized programs, and a core mission to provide high quality, comprehensive health care services to ill and injured children, regardless of their ability to pay. For more information on Children's Hospital, visit http://www.childrenscentralcal.org .
###