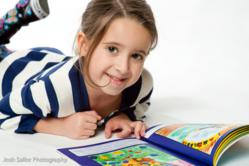 "...like a modern mixture of 'Dr. Seuss' and 'Aesop Fables,' both poetic and pertinent," reports YS Magazine.
Palm Beach, Florida (Vocus/PRWEB) November 30, 2010
Missy Kabissi, Sweet Zara and Lizzy B. Fuddled, Kailee's children's book characters, are winning the hearts of tiny fans internationally as children are able to identify both with Kailee and her characters.
Youngest child of successful children's book author and illustrator Elizabeth Hoadley, Kailee has instinctively followed in her mother's footsteps. Their company, The Sunshine Workshop, has created 13 illustrated children's books with 20+ in line to be published.
The notion of onsite sketching, painting original watercolors and creating a wealth of characters might intimidate most children, but this budding young author and artist considers it child's play.
"It's fun," she said when asked why she paints. "My brother likes hockey, but I like to paint."
"Sometimes the children will be getting ready for bed, but Kailee will ask if she can set up her watercolors," Elizabeth said. "I bought her a piano, but she drags a little chair next to the piano bench and uses it as a drawing table instead."
Missy Kabissi and the Palm Beach Treasure Hunt" began last year when Kailee was 5-years old and on a trip back to where Elizabeth was raised, Palm Beach, Florida.
Kelley Dunn of WPTV News Channel 5 reached out to offer Kailee her very first interview, but since Kailee could not yet read or write, she captured her painting a watercolor of the Breakers Hotel which is now the cover illustration for the book.
"Her books exude a sense of optimism and offer to her tiny clients pertinent life lessons," reports Palm Beach Young Society Magazine, "like a modern mixture of 'Dr. Seuss' and 'Aesop Fables,' both poetic and pertinent."
The Hoadley influence has been gaining momentum.
Kailee and Elizabeth recently came back from a trip to NYC to negotiate their books and characters becoming Children's Theater, TV programs and even dolls. "This is stunning to me," Elizabeth continues. "I would never have imagined such amazing things could come from a mother and daughter just doing what we do for fun."
"No final decisions have been made," Elizabeth continues. "There is no rush to make hasty decisions. When it's right, I'll know it."
Kailee illustrated her first book at 2-years old and has published one book a year ever since. She is just learning to read.
"I Know I Can" is the title of her next book, a tale of how Missy Kabissi and Lizzy B. Fuddled learn to focus on their dreams despite giggles and discouragement from others.
How appropriate.
Kailee turns 7 in March.
###