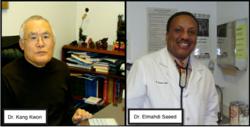 We cannot begin to stop the horror of child exploitation until we are able to teach the very youngest victims, at the earliest possible age, what is, and what is NOT, appropriate adult behavior." Kang Kwon MD.
Flint, Michigan (PRWEB) December 30, 2011
"The problem is," continues Hoadley, "that everyone trusts their circle of friends and family. Parents and teachers often avoid this topic, but their silence keeps their children uninformed, unaware and sadly, an easy target for abusers."
"When people make large purchases, they usually are for themselves, like flat screen televisions, or new phones," said Shayna Dubbin Harris, Chief Operating Officer of The Sunshine Workshop, "but instead of thinking of themselves, Dr. Kwon and Dr. Elmahdi thought of the children and purchased 500 copies of 'Sweet Snuggles' and 'Healthy Hugs' to give as gifts to the children in their community."
"Juvenile Sexual Abuse can impact a family for generations to come. This is not a singular assault," said Hoadley. "When a child is assaulted, the entire family is riveted, and the implications last for years: suicide, drug abuse, low self-esteem, communication challenges, and the list goes on."
"In my practice, I all too often witness young lives lost and shattered by abuse," said Dr. Elmahdi Saeed. "I was surprised by 'Sweet Snuggles'. A first of its kind, it was illustrated by a 2-year old and told in the voice of a 3- year old. Thus, toddlers learn crucial lessons at a level of verbal and non-verbal communication in sync with their age and ability to process information. I have found these books to be effective in my practice, even with autistic and non-verbal children."
"Exploring and adopting skills learned in 'Sweet Snuggles' and 'Healthy Hugs'," Dr. Saeed continues, "the child gains a sense of security and self-awareness that he or she can use to help recognize some subtle first signs of sexual abuse and exploitation, thus hopefully prevent it from occurring at all."
"It is our responsibility as parents of young children," continues Dr. Kwon, "to see that these books touch the lives of as many children as possible. Cautious trust is every bit as important as learning to read and write. 'Sweet Snuggles' and 'Healthy Hugs' provide a unique and comforting, yet succinct way to help youngsters. Easily understandable language and vocabulary, and intelligent, colorful, creative illustrations encourage the young reader to somehow 'find the words' or 'find a way' to articulate that 'funny feeling' that accompanies child exploitation."
"The magnitude of this gift cannot be underestimated," said Dubbin Harris. "The gift of generational life, health and happiness certainly beats a flat screen TV. To create the books, Elizabeth spoke with adults who were abused as children. She kept asking what the very first signs of their abuse were, the ones that were so subtle, that they went unnoticed by all, signs that if noticed, identified, and communicated, might have given these children a better chance."
"The children in their community are certainly blessed to have doctors who care so deeply," said Hoadley. "In my opinion, they are community heroes indeed."
For people who would like to see an overview of these books, go to Elizabeth Hoadley's YouTube Channel Extraordinary Heroes help Prevent Toddler Acquaintance Abuse.
The Sunshine Workshop produces children's books, artwork, animation, musical theatre productions, and related products and has offices in the United States and Canada. Their products are available in stores, on Amazon, through their website TheSunshineWorkshop.com and their 'Ray of Sunshine' Independent Distributors.
Reference (1). Page 10. Howard N. Snyder, Ph.D. for the U.S. Department of Justice, Bureau of Justice Statistics document entitled "Sexual Assault of Young Children as Reported to Law Enforcement: Victim, Incident, and Offender Characteristics, a NIBRS Statistical Report, July 2000, NCJ 182990.
###