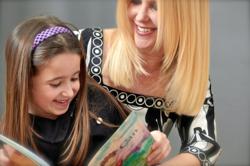 "I am an admirer of the SOS 'Mother-care' model and interpretation of the family unit for orphaned children worldwide. I commend Air Transat for sharing this with their clients," said Elizabeth Hoadley, CEO, The Sunshine Workshop
Ottawa, Canda (PRWEB) January 04, 2012
"I'm thrilled to attend and am looking forward to returning from Jamaica inspired to create new stories and artwork with Kailee to enrich the lives of children worldwide," said Hoadley.
SOS creates loving homes for 90,000 children and reaches 1.2 million people daily with education, healthcare, vocational training, support to the grandparent and orphan-led households, and disaster relief. Now more than 60 years old, SOS Children`s Villages has more than 500 villages and operates in more than 132 countries.
"When I got their initial email, I couldn't believe my eyes," said Hoadley. "Little did SOS Children's Villages know when they contacted me, I already knew of their work.  I first heard of them on an Air Transat flight en route from writing 'My Wise Eyed Linden Tree' in Austria.  I am an admirer of the SOS 'Mother-care' model and interpretation of the family unit for orphaned children worldwide. I commend Air Transat for sharing this with their clients."
"SOS is the largest orphan-focused charity in the world," states Mike Holmes, of 'Holmes on Homes.' "I've seen it firsthand, and they know how to make it right."
"A story links us all," said said Kimberly Brittain, Senior Resource Lead, SOS Children's Villages Canada.  "Kailee and Elizabeth Hoadley travel to interesting places, often UNESCO World Heritage Sites, and create children's stories which share healthy and moral messages to readers worldwide. It's a friendship meant to be."
"Hoadley's enchanting writing is sort of a mix between Aesop's Fables and Dr. Seuss, but with a magical twist and a world-flavour," continues Brittain. "Because she dedicates herself to children's books, Hoadley's work is read by the caregivers to those who sometimes cannot yet read, so her messages also touch the entire family, hospital or school.  It's often the simple stories of childhood that resonate for years. Elizabeth's work has that timeless, universal quality," said Brittain.
"Quite literally, this is a dream come true," said Hoadley. "When we met, Kimberly said that she had been reluctant to contact me, but little did she know at the time, I was already a huge fan of SOS, and am ready, willing, able and excited to go see their villages.   There is no doubt that there are links waiting to be books and stories which will touch the hearts of children and stir their souls for the better."
"Life begins with the family unit. Our world has become so disposable that it is important to remind the youngest among us that the real gifts in life begin with health and the family unit ~ even if that family is one that is created through bonds forged after birth, like foster care, adoption and even the warm shoulder of a close friend," said Hoadley.
The SOS Children's Villages Mission Statement is 'We build families for children in need.  We help them shape their own futures.  We share in the development of their communities'."
The Sunshine Workshop's Mission Statement Page states, "Through our books, artwork, musicals and animated features, we hope to encourage optimism, hope for tomorrow and belief in one's self today.  We also pray to broaden children's perceptions by traveling to other countries, bringing back and sharing ʻlittle special somethings' about each place we visit, the things we see and the people we meet.  We grow as people when we get out of our comfort zone; we start to understand truths which transcend all men and are universal to all people, places, races and cultures."
"Children worldwide can only benefit from an association between Elizabeth Hoadley and SOS Children's Villages," said Shayna Dubbin, Chief Operating Officer, The Sunshine Workshop. "I am certain that Elizabeth will return from Jamaica with a myriad of inspiring stories and ideas that will delight old and young alike. It's going to be a busy year for The Sunshine Workshop."
For more information on SOS Children's Villages, please visit: http://www.soschildrensvillages.ca.
The Sunshine Workshop produces children's books, artwork, animation, musical theatre productions, and related products and has offices in the United States and Canada. Their products are available in stores, on Amazon, through their website The Sunshine Workshop.com and their 'Ray of Sunshine' Independent Distributors.
###