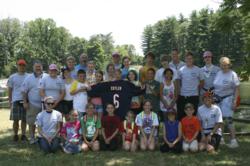 ". . .am very confident in the excellent environment they provide for the kids." - Jay Cutler
Evansville, Indiana (PRWEB) February 14, 2013
"The Jay Cutler Foundation is excited to continue our support of YMCA Camp Carson and the hard work they are doing on behalf of children with Type 1 Diabetes. To know the money we raise throughout the year will help send kids with T1D to summer camp along with their peers is a great feeling. The work the staff at Camp Carson does on behalf of these children is a real inspiration." said Mark Block of The Jay Cutler Foundation.
Following an incredibly successful first year of camp for children confronting Type 1 Diabetes and after consulting with medical staff, parents and campers, "There was no question in anyone's mind that we needed to ensure this camp continues. We were delighted to hear that Jay Cutler and his Foundation are fully behind this program and committed to seeing it grow." Scoular said.
Mark Scoular, who serves as Executive Director for YMCA Camp Carson, a branch of the YMCA of Southwestern Indiana, was pleased with the results of the 2012 camp program run in partnership with St Mary's Medical Center, Evansville.
Rebecca P Winsett PhD, the nurse scientist at St. Mary's, served as the INdependence Diabetes Camp's lead medical officer, along with the support of a team of nurses, dietician, counselors with Type 1 Diabetes, and the camp physician for the week, Michael Verive MD. Dr. Winsett also worked with vendors to secure donations of the medical supplies needed for the week.
When Dr. Winsett broached the idea for a diabetes camp in this area to Scoular, YMCA Camp Carson was the ideal setting. Because of the planning and preparation involved, they initially planned to start a camp in 2013, but when the Cutler Foundation surprised the YMCA and stepped up to initial conversations late in 2011, the camp was suddenly a go for 2012! The careful planning and preparation by both the YMCA and St. Mary's made for a remarkably smooth inaugural year for the 20 campers who attended the program. With an even stronger program design now in place, and local parents and children touting the benefit of the camp experience, Scoular fully expects the camp to reach its targeted goal of serving approximately 40 campers in the summer of 2013. The camp is open to campers from ages 9-15 years old and will run from June 23-28, 2013.
At a recent meeting, parents of campers from the previous summer shared stories of growth, confidence and independence observed in their children as a result of their week at camp. The camp focuses on ensuring the children have as normal a traditional camp experience as possible participating in everything from mountain biking, archery, canoeing, pottery, and horseback riding, to climbing, water-ziplines and more. At the same time, Scoular added, "For one week they're not alone with this disease. They share their cabin with a group of kids who understand their thoughts, their battles, their condition. Even some of the counselors have Type 1 Diabetes. With intentional planning and in partnership with the medical expertise of the St. Mary's team, we can help these children proactively develop age appropriate critical thinking skills to help them successfully live very active lives while coping with Type 1 Diabetes."
When asked about his support for the camp, Cutler shared, "It's very rewarding to be able to give back to YMCA Camp Carson down in Southern Indiana where I grew up and the camp that my sisters worked at as counselors. Having Type 1 Diabetes myself it is important to me that my Foundation is able to directly help children that have Type 1, and allow them to have the same summer camp experience as their friends. I've been fortunate enough to meet the directors of Camp Carson and am very confident in the excellent environment they provide for the kids. It is a great partnership for our Foundation."
YMCA Camp Carson is located at 2034 Outer Lake Road, on the outskirts of Princeton in southwestern Indiana. They offer traditional over night camps during June and July. Some specialty program sessions are also offered at various times during those months. Registrations for all sessions including the Independence Diabetes camp are already being accepted. For more information on any of their programs, call YMCA Camp Carson at 812-385-3597 or go to http://www.campcarson.org
###