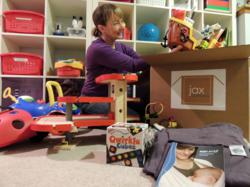 "Sending my items to Jax in the Box was very easy and convenient," said Xan Banker, a Jax in the Box customer from Minnesota.
Burlington, WI (PRWEB) April 23, 2013
Jax in the Box, a new online children's resale store, takes the hassle out of Spring cleaning – an annual rite of passage for most families that is beginning throughout the United States. As the weather warms up folks throughout the country are scouring their basements, attics, garages and playrooms to clean out the "old-stuff" and get ready for a summer full of activities and season-appropriate kids' gear.
A variety of online retailers offer ways to sell gently used items, such as eBay or Craigslist. However, one new online retailer, Jax in the Box, has taken things a step further and made Spring cleaning a whole lot easier. Parents throughout the country can now click and ship their gently used toys and kid gear and get paid cash with Jax in the Box's easy-to-use Playroom Purge Kit. Customers send their gently used items to Jax in the Box (Jax in the Box pays the shipping), and get cash or store credit for the items the store chooses to buy. Customers can choose to have their remaining items shipped back to them or donated. Jax in the Box is not a children's consignment store - they buy used children's gear outright before they offer it to their customers.
"Our customers tell us that our payout is as much, if not more, than what they earn when taking their toys and gear to their local brick and mortar resale shops," said Jessica Lahner, owner of Jax in the Box.
Reducing the hassle of hosting a garage sale or placing the items on Craigslist or eBay, is one of Jax in the Box's goals. Unfortunately, Craigslist users are finding many people do not respond to their ads, appointments to purchase items are cancelled and calls are not returned. Many people are also concerned about their own security, as they arrange transactions with strangers they do not know.
EBay charges customers a percentage of the sale to list items, reducing seller's overall profit. Due to the large number of items listed on eBay, sometimes auctions are not found by willing buyers. Disputes about the quality of the item sold can also lead to bad reviews and reduced eBay sales.
Finally, people find garage sales to be a big hassle too, as the time invested to organize and price items can be ruined by a couple of days of bad weather. It also takes up an entire weekend, not to mention all the time spent prepping for the big sale.
This is where a new type of online retailer like Jax in the Box comes in. As parents get busier and busier, the convenience of simply filling up a postage-paid box with gently used items and getting paid cash has begun to take hold throughout the country.
"Sending my items to Jax in the Box was very easy and convenient," said Xan Banker, a satisfied customer from Minnesota. "I used my store credit to prepare for the summer and buy new and gently used items for my growing toddler."
The Playroom Purge kit includes easy-to-follow instructions including a guide on what the store accepts and what they do not. Parents chose between a Premium Kit, which includes a postage-paid box, or Basic Kit, which instructs users on how to use a box they have on hand and simply print a postage-paid label that Jax in the Box emails them directly.
After cleaning out those outgrown items, those looking for a good bargain are also taking the opportunity to stock up on discount toys and other items at up to 80% off the retail price. Jax in the Box offers a Play Ready Promise, giving parents the confidence to shop gently used online. The Play Ready Promise guarantees that all the items sold on the site are in good to excellent condition, are free of removable dirt, scratches and grime, come with all the parts that make the item functional, and have not been subject to recall by the U.S. Consumer Product Safety Commission – or they will take the item back.
Jaxinthebox.com is an online children's resale shop offering parents of young children all gear they need and most of what they want by providing gently used items for up to 80% of retail. Their goal is for parents to never have to pay full price for quality kid gear.