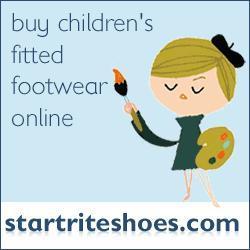 London, UK (PRWEB) July 24, 2008
With internet shopping at an all time high and online sales hitting £26.5 billion in the first six months of 2008 alone , Start-rite, one of the world's leading brands in fitted children's shoes, has launched startriteshoes.com. This innovative website offers parents a choice of methods to accurately measure their children's feet from the comfort of their own homes, enabling them to shop easily online.
Startriteshoes.com provides users with detailed, easy to follow instructions and advice on how to measure their children's feet and fit shoes. A variety of fitting options is available to suit different requirements and ensure that little feet are in the right size shoes:

a paper gauge, downloadable from startriteshoes.com, with pre-printed length and width indicators
a purchasable plastic gauge, more reminiscent of the gauges used in stores, featuring a sliding tab to assess length and a tape to measure width
For both of these options, parents measure using the device and then input the length of the longer foot and the width of the wider foot in millimetres. Startriteshoes.com will then return the proposed size and width fitting of shoes to be purchased.
Full instructions for use with both measuring devices are available on the website in the form of user-friendly video clips.
Location, Location, Location
With more and more of us opting to escape city living for country life, getting to a shopping centre can often involve a long journey. However, six out of 10 people (61%) now have an internet connection at home and are embracing the ease of internet shopping, which enables access to multiple shops, websites and suppliers at the click of a mouse.
The new Start-rite website offers every parent and guardian, no matter where they live, the best possible alternative to purchasing fully fitted shoes from the high street, and steers them away from non-fitted children's shoes, which can result in permanent damage to developing feet.
David Attwood, joint managing director, Start-rite Shoes said: "Start-rite products have always been available through a network of independent high street retailers and this will continue to be a priority for us, but the launch of the transactional website means that online shoppers can now also access our products too. The website has been months in development and we're extremely pleased with the final results. The fitting tool options are very easy to use, giving parents who choose to shop online the reassurance that the shoes will fit and that they are giving their children the best possible alternative to having shoes professionally fitted in-store."
Dr. Chris Steele, resident doctor on ITV's This Morning, said "I think it's fantastic that Start-rite is taking this step forward and going online. It's not always possible to get to a shoe store to have your kids measured accurately so rather than buying poorly fitting shoes that could damage their developing feet, Start-rite is providing busy or remote parents with the best alternative; quality shoes that are fitted at home and easily ordered online."
Parents can view 360˚ images and find product descriptions for Start-rite's extensive collection online, as well as access reliable and accurate advice on all aspects of child foot health. A comprehensive Help section and contact details for Start-rite's expert customer service team can also be found at startriteshoes.com.
Start-rite's collections will continue to be available through a large number of high street retailers including John Lewis and Russell & Bromley. Consumers can find full contact information including maps for their local retailer using the Store Locator at startriteshoes.com.
About Start-rite
Start-rite is a world leader in chlldren's fitted footwear and the first UK brand to retail its products online. Recognised in more than 35 countries for superior quality, style and fit, Start-rite has been entrusted by generations of parents to care for children's feet.
Start-rite offers stylish fitted footwear from pre-walkers to sporty casuals and smart school shoes, cool sandals, cosy slippers and fun wellies, as well as the timeless English Classics collection.
Start-rite offers children's shoes in whole and half sizes and multi-width fittings, helping to ensure the best possible fit for every child.
For further information about Start-rite please contact:
Tara Walker
Start-rite Team
Tel: +44 (0)208 846 0700
startriteshoes.com
Startriteshoes.com was developed by specialist ecommerce digital agency Digivate. For more information about Digivate please contact:
Matt Roberts
Digivate
020 7845 9950
digivate.com
# # #