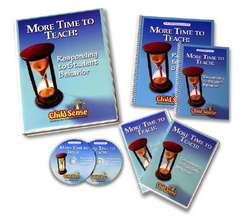 The teachers in our school using this four-step approach all experienced a decrease in time-wasting behaviors in their classrooms
Minneapolis (Vocus) May 20, 2008
As the school year comes to a close, many teachers, parents and even students reflect on another year gone by and think, "Where does the time go?" In the classroom, every moment is critical. The average teacher loses 50 percent of his or her teaching time responding to time-wasting behaviors.
ChildSense is giving the time back with "More Time To Teach: Responding to Student Behavior," a video training program that teaches educators how to respond effectively to student behavior for improved classroom management.
Created by ChildSense's behavior specialists, Jeff Fink and Jon Halpern, "More Time To Teach" presents a practical, easy-to-follow program that gives teaches a proven, four-step approach to effectively responding to student behavior that distracts from teaching time in the classroom.
"The teachers in our school using this four-step approach all experienced a decrease in time-wasting behaviors in their classrooms," said Dr. Mary Dybvig, former principal of Como Park Elementary School in St. Paul, Minn. "They told me they went home happier because they actually had more time to teach."
Available in both elementary and secondary versions, "More Time To Teach" features students and teachers dramatizations of real-life classroom situations, providing guidance for positive behavior interventions and solutions for dealing with students who resist.
"Teachers who have implemented this program have experienced more than 40 percent decrease in classroom disruptions, dramatic improvement in classroom management, and considerably less fatigue at the end of the school day," says ChildSense co-founder Jeff Fink. "And, when teachers benefit, so do the students. They ultimately enjoy a more peaceful, productive environment with more time for learning."
Industry experts agree. "Video Librarian," "Library Journal" and "Booklist" have all praised "More Time To Teach" in their reviews, with "Booklist" calling it "an effective resource for professional collections."
"More Time To Teach" is an ideal tool for staff development. Designed for general and special education teachers, administrators, staff development coordinators and university instructors, the "More Time To Teach" video is eligible for two continuing education credits. Each staff development kit includes:

A 44-page facilitator's guide
Ten teacher's guides for program participants (additional teacher's guides may be purchased in quantities of 10)
A "More Time To Teach" DVD (approximately 40-minutes in length)
The Elementary and Secondary Kits are available separately for $299.95 each, or sold together for $499.95.
About ChildSense
Founded in 1985 by behavior specialists Jeff Fink and Jon Halpern, ChildSense seminars and videos have educated and entertained parents and teachers nationwide. Their first DVD, "Setting Limits and Boundaries: How to Say No to Your Kids," was released in 2003. Recognized as experts in the process of changing children's behavior and known for their entertaining and dynamic style, Jeff and Jon also work with school children in the Minneapolis/Saint Paul area. For more information, visit http://www.childsense.net.
Media Contact: Robin Smothers, 763-525-8750 or robin @ rmspr.com
# # #