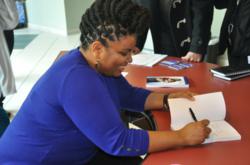 "Secrets Make You Sick" - Sundi Jo
Washington, DC (PRWEB) April 01, 2012
Ressurrection Graves is author of a memoir that uncovers her abuse, and the owner of the blog site http://www.ressurrection.wordpress.com
Ginny Scales who invented the Sunless Tanning System has moved beyond her tumultuous upbringing to be an inventor, and author. She is featured in the new movie, "What is the electric car?" She has written a novel that is based on her own true story of life growing up sexually abused, and bullied.
You will meet Marko Hamlin a man who has been embattled by depression and has overcome child sexual abuse through his relationship with God. Sundi Jo lost one hundred and forty five pounds after overcoming her abuse. Emmy-Award winning Johnnetta Mcswain was honored when the academy rewarded her documentary "The Road Beyond Abuse" narrated by Jane Fonda.
After writing her memoir, Identity Crisis, Identity Christ Is: A Journey to Love and having a conversation initiated by her mother, she was awakened to the realization that everything in her life was affected by the scar she received at four years old in that tiny two bedroom house on Monroe Street.
Ressurrection is healed, and educated about her own abuse is passionate about teaching anyone who will listen in an effort to disarm offenders, and bring healing to women and men who have been abused.