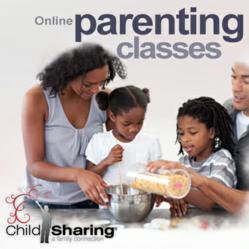 ...you still have a very important relationship, and it's the most important one of all: a parenting relationship.
Carson City, Nevada (PRWEB) April 26, 2012
ChildSharing.com is reporting a noticeable increase in parents who are registering for more than one online parenting program. Over the past three months at least one in ten parents registering for an online program are seeking additional class material. Leading the trend are multi-hour online parenting skills programs. High-conflict anger management programs, are a close second. This trend is not surprising to ChildSharing.com however, as they recently reported a 30% increase in sales just last month. It is clear that parents are actively reaching out to seek help and assistance in learning how co-parent.
It is important to note that along with parents seeking multiple classes, ChildSharing.com is also observing a trend in parents signing up for extended programs. This means that if parents are mandated to attend a four hour program from the court, they are signing up for a six, eight or ten hour program and receiving additional help, information and certification.
"The main reason to work at co-parenting is that it helps children deal with all the changes that happen when their parents are no longer together. Even though you may not want to talk to the other parent after the romantic relationship ends, you still have a very important relationship, and it's the most important one of all: a parenting relationship." stated Lori LaVigne, Education Director for ChildSharing.com. "Effective parenting has never been more important to a family's success than today as it will shape the coming generations, and the way the next generation will behave, affecting the world around them and it looks like parents are responding."
Founded in 2008, ChildSharing, Inc. is dedicated to better educating and supporting families. ChildSharing.com classes are accepted in over 600 counties across the country and works with experts in an effort to properly educate families in transition. For more information on our experts, or for additional questions regarding ChildSharing, Inc., visit ChildSharing.com.
ChildSharing.com online programs start at $39.99. Anger Management for Co-Parents offers eight and twelve hour option and are a convenient and flexible way for parents in high conflict situations to comply with court ordered mandates in an effort to keep their families functioning peacefully. Classes are available in multiple languages. Discounts are also available to low-income families and military.
Media interested in setting up an interview with ChildSharing, Inc. representatives regarding the online program should contact Lori Lavigne in the development planning office (866-333-1165 or lori(at)ChildSharing(dot)com).