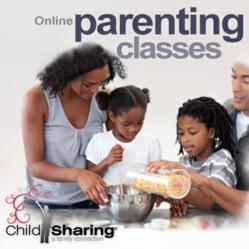 ... for busy families to increase their parenting skills and comply with court requirements.
Carson City, Nevada (PRWEB) February 16, 2012
ChildSharing.com announces the launch of new online parenting classes to better equip parents with knowledge, skills and advice while allowing them comply with court mandated educational requirements. These unique online parenting classes, which are in compliance with county requirements for court ordered education, may be taken as a complete 21-hour course, or in shorter increments of 8-, 12-, or 16-hour courses.
ChildSharing.com online parenting classes have been carefully developed in response to the growing need for busy families to increase their parenting skills and comply with court requirements. Working parents are often constrained by transportation and daycare issues, among other things, which make attendance at in-person courses incredibly difficult. These online parenting classes allow parents the flexibility they need to fulfill their court obligations and increase their knowledge and parenting skills.
ChildSharing, Inc.'s online parenting classes include interactive quizzes, real-life applications, and a wide variety of parenting skills information covering issues facing parents of newborns to teens, such as breastfeeding, potty training, discipline, self-esteem, bullying, chores, as well as information on how to prevent and identify harmful behaviors such as addiction, self-injury and depression.
After a simple online registration process, these online parenting classes may be taken at any pace, from the comfort and convenience of home or from any mobile device. When the participant feels ready, they take an online, multiple-choice exam; once they've passed, they will receive an email certificate of completion, as well as a hard copy through the postal service which is then delivered to county courts. ChildSharing, Inc. offers a 30-day guarantee on all online classes.
Michelle Muncy of ChildSharing, Inc. says, "The parenting skills programs are both informative and accessible—a combination that is all too rare in our complex, technology-driven learning environment. In providing our classes at a low cost our hope is that we are able to provide affordable education to parents who may not have otherwise received it or have the ability to attend in person programs."
Founded in 2008, ChildSharing, Inc. is dedicated to better educating and supporting families. ChildSharing, Inc. works with experts across the country in an effort to properly educate families in transition. For more information on our experts, or for additional questions regarding ChildSharing, Inc., visit ChildSharing.com.
###