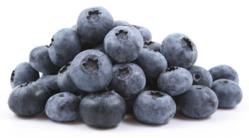 There are no bad fruits; of course, some are just absolute superstars and blueberries are one of them.
Sonoma, CA (PRWEB) December 26, 2011
With the arrival a new year, and the inevitable resolutions to eat healthier that arrive with it, Ellie Krieger, RD, and Jonny Bowden, PhD, CNS, are advising the health-conscious to reap the ample "superfood" benefits of blueberries for year-round good health. Both nutrition experts have teamed up with the Chilean Blueberry Committee to promote these summer-fresh fruits during North America's cold winters.
Ellie Krieger, RD, the nationally acclaimed registered dietitian and host of Food Network's Healthy Appetite, notes that, at only 42 calories per 1/2 cup serving, blueberries are ideal as a smart snack option in lieu of more fattening snacks. "I advise people to eat the rainbow," says Krieger. "One of the things that makes food so appealing and enticing is also what makes it good for you: color. Blueberries are chock full of anthocyanins which act as powerful antioxidants."
Jonny Bowden, PhD, CNS, (aka "The Rogue Nutritionist"), well-known expert on weight loss, nutrition and health, cites the abundance of antioxidants, vitamin C, fiber, potassium and other essential nutrients found in the Little Blue Dynamos*. "There are no bad fruits; of course, some are just absolute superstars and blueberries are one of them" says Bowden. "That's why blueberries are one food I eat every single day-without exception."
Considered by many leading nutrition experts as a "superfood," blueberries are purported to improve brain function, prevent Alzheimer's and dementia (according to independent university studies), lower the risk of heart disease and cancer. Scientific evidence also suggests that blueberries may even be beneficial to the skin.
Both Ellie Krieger and Dr. Jonny Bowden will be appearing in news media during the winter to remind consumers about the many benefits of summer-fresh blueberries, which are available all year round thanks to thriving blueberry production in Chile, where the blueberry harvest is at its peak during the North American winter, when domestic blueberries are unavailable. The two nutrition experts are eager to share with audiences how easily and deliciously summer-fresh blueberries integrate into breakfast, lunch, snack and dessert to give a nutritional boost to every meal.
Appearances by Ellie Krieger, RD, and Dr. Jonny Bowden, PhD, CNS, are part of the Chilean Blueberry Committee's campaign to educate consumers on the health benefits of fresh blueberries. The CBC has added new menu creations to its stock of nutritious blueberry recipes, developed literature highlighting pertinent nutrition research and is supporting the experts' national television tours.
Chile is currently the second largest producer of cultivated blueberries worldwide and also the leading grower in the Southern Hemisphere, where the fruit is available during the winter season, when it is not being harvested in the Northern Hemisphere. For more information about Chilean blueberries go to http://www.chileanblueberrycommittee.com (click on the British Flag at the bottom for English).
CONTACT
Karen MacKenzie
MacKenzie Agency
Sonoma ~ 707.545.3280
Manhattan ~ 212.924.5555
mackenzie(at)mackenzieagency(dot)com
http://www.mackenzieagency.com

"Little Blue Dynamos" is a registered trademark of the U.S. Highbush Blueberry Council. All rights are reserved.
###