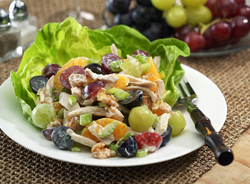 Thanks to Chile, great-tasting fresh fruits are available year-round in the US.
Sonoma, California (Vocus) March 25, 2010
Certain foods, although delicious alone, are just magical in combination. Hot dogs and mustard. Bagels and cream cheese. Spaghetti and meatballs. Another of these fantastic combinations is grapes and cold chicken. Something special happens when the juicy sweet flesh of crisp, ripe, grapes melds in your mouth with solid chunks of cooked chilled chicken. It creates a very satisfying taste sensation that makes this chicken salad dish perfect for luncheon or a light supper. Toasted walnuts, sliced celery, and orange sections provide an additional tapestry of textures and flavors for this wonderful healthful salad dressed with tangy creamy Greek yogurt. French bread with sweet butter or perhaps even a beef consomme would make nice accompaniments.
Ample scientific evidences suggests that Americans increase their intake for fresh produce to ensure optimum health, and reduce the risk of cancer and heart disease. Thanks to Chile, great-tasting fresh fruits are available year-round in the US, even in the winter months. Chile provides over 25 varieties of fresh fruit to American consumers, and is a leader in encouraging increased fruit consumption for better health.
Grape and Orange Chicken Salad in Lettuce Cups
2 cups diced cooked chicken
1 cup red or green seedless Chilean grapes, halved
1/2 cup thinly sliced celery
1/2 cup walnut halves, toasted and coarsely chopped
2 tablespoons thinly sliced scallion (green onion)
2 medium oranges, peeled, sectioned; reserve juice for dressing
1/2 cup low-fat Greek yogurt
3/4 teaspoon dried tarragon crushed
1/4 teaspoon salt
4 lettuce leaf cups
In medium bowl, combine chicken, grapes, celery, walnuts and scallions and oranges. In small bowl, combine yogurt, orange juice, tarragon and salt. Add yogurt mixture to chicken; toss to combine. Divide salad equally among lettuce cups.
YIELD: 6 Servings
Nutrients per serving: Calories 209, calories from fat 81, fat 9 gms, saturated fat 2 gms, cholesterol 42 mg, sodium 148 mg, dietary fiber 1 gm, protein 18 gms.
Photo and recipe courtesy of the Chilean Fresh Fruit Association. Click directly on photo to access high resolution image or visit http://www.chileanfruitonline.com for this and other recipes, photos and videos highlighting fresh fruit from Chile.
###