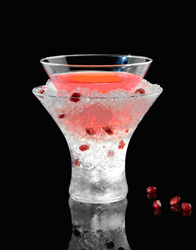 Chilware represents the marriage of creative thinking with twenty-five years of manufacturing experience. The union produces a modern solution to an age old problem.
Philadelphia, PA (PRWEB) October 04, 2016
Imagine being on vacation with great friends. While sharing cocktails and laughs something terrible happens. The ice-cold delicious cocktails that you started with have become watery and warm. Perhaps not the worst thing that can happen on vacation but definitely a buzz kill. For Chilware Co-Founder Dawn King, this problem became a personal challenge. Upon returning from vacation, Dawn collaborated with partners to design unique glassware that addresses several problems: how to keep a drink deliciously chilled, how to prevent an icy chill from diluting the drink, and how to insure care is simple.
"Chilware represents the marriage of creative thinking with twenty-five (25) years of manufacturing experience" says Dawn King. "Each Chilware has an outer chamber that fills with ice and an inner chamber that nestles your drink keeping it tasting great and chilled to the last drop."
The unique design and manufacturing process delivers on the following features:

Injection molded polycarbonate plastic with two chamber design
Dishwasher safe
Drink is always chilled and never diluted
Shatterproof making it safe for patios, decks and pool side
MSRP $19.99 for set of 2 and $34.99 for set of 4
Will be manufactured in the United States
Future options will be available in glass for a more elegant presentation
More than just a cocktail glass, Chilware can be used to serve shrimp cocktail, stone crab or used creatively as tasteful table décor
"Feedback on Chilware has been very positive" continues King, "but to bring this revolutionary product to market backers are needed on Kickstarter. The goal is to raise $210,000 in pledges. "
Those who love to entertain poolside, host soirees on a patio, enjoy a thoroughly chilled drink or want to explore the options presented by this one-of-a-kind design should invest in the future of Chilware. Each $100 pledge will yield a set of 8 Chilware. Other investment opportunities exist with great rewards. Go to https://www.kickstarter.com/projects/chilware/chilware-the-cocktail-glass-that-chills-without-di
# # #
Chilware is a unique glass designed to insure that your drink is deliciously chilled without becoming diluted. The injection molded plastic is dishwasher and patio safe. A Utility Patent has been filed. Chilware will be manufactured and distributed in the United States. For more information, visit http://www.chilware.com