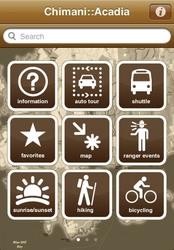 This is a 'Maine-Made' app which has been developed by people who know and love Acadia National Park.
Yarmouth, ME (PRWEB) July 16, 2010
Kerry Gallivan, a local developer of national park mobile apps, hopes that President Obama will use his newly released Acadia National Park app while vacationing in Maine this weekend.
Now available on iTunes (and soon to be available for Android phones), the app is designed to work entirely off-line without any cell phone connection and is an all-in-one guide to Acadia National Park. The app includes over 300 points of interest and unique features like a custom-made GPS-enabled map with shaded relief, a 35 minute audio tour of the Park Loop Road and a year's worth of projected sunrise/sunset data (from top of Cadillac Mountain) as well as projected tidal data and the best time to visit Thunder Hole. Other unique features include schedules for the Island Explorer shuttle bus and the park's Ranger-led events which are updated throughout the season.
"This is a 'Maine-Made' app which has been developed by people who know and love Acadia National Park," explains Gallivan, President and Founder of Chimani, his mobile app company. "It has been getting great reviews from vistiors to the Park and I think it would be a great resource for them."
The app's general and operational park information includes detailed descriptions of hiking trails and guides to bicycling, camping, lighthouses, unique points of interest, museums, parking, restrooms, ranger stations, picnicking, swimming areas, birding tips, boat launches, fishing, horse riding and accessibility.
The Chimani's Acadia app also allows users to create a "Favorites" list, conduct global search, turn map annotations on and off and download new content. The app's remarkable photo galleries were taken by professional photographer David Patterson.
About: CHIMANI, LLC:
Established in 2010, Chimani, LLC is a developer of content and apps for mobile devices specific to National Parks in the United States and abroad. Kerry Gallivan, the President and Founder, has a long history of outdoors experience, emerging technology and international experience. Chimani is short for the Chimanimani National Park in Zimbabwe - where Kerry completed a three-week Outward Bound course while he was living and working in Zimbabwe in the mid-90s.
###